Erin Hendrickson, RT(T)(R)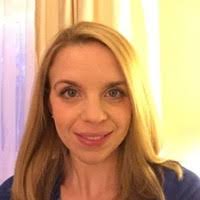 There are many career options within the Radiation Oncology field and how a person chooses which path to make their profession can depend on a number of different factors. This narrative is my personal journey of why I chose to work in the field of Radiation Therapy.
I have always been very passionate about my role in the cancer care management platform. My passion for the field and reason for choosing therapy as my career is based on a personal experience. I grew up in a close knit family about two hours north of Philadelphia. In 1986 my older sister, who was four years old at the time, was diagnosed with medulloblastoma. I was only seven months old at the time of her diagnosis. My parents were referred to the Children's Hospital of Philadelphia for her care. The tumor was able to be surgically removed, but she had to undergo chemotherapy and craniospinal irradiation as part of her treatment plan to ensure any cancer cells were eradicated. After all the treatments and initial follow-up appointments were completed she was free of the cancer but due to her young age she developed some long-term side effects, most notably a decrease in her IQ levels. While I was too young to remember the initial diagnosis and first few years of follow-ups, as I got older and was able to understand all that my sister and parents had to endure, I developed a strong sense of compassion and desire to help people. I would accompany my parents and sister for her yearly follow-up appointments until she was about 16 years old and helped in her care on a daily basis. There were many trials and tribulations my family had to go through and many good principles were instilled in me at a young age, especially my maturity level. I knew from this experience a career in healthcare was one that suited me well. My sister was my motivation for choosing radiation therapy.
When I was in high school I started researching the field of radiation therapy. I went to a few local hospitals and shadowed in the Radiation Therapy department. There were a few program options that interested me, each with a different educational path, such as a four year program at Gwynedd Mercy College or two-year hospital based training programs. The program I chose was an early acceptance program for high school seniors through Thomas Jefferson University-College of Health Professions PACE program. The program was based on academic standing and it guaranteed a seat in their dual-modality Bachelors of Science in Radiologic Sciences program. After acceptance into PACE I had to then apply to another college in order to obtain the prerequisites while maintaining the set GPA of the program. I went to Bloomsburg University for two years then transferred to Thomas Jefferson University to finish my degree. I chose Radiography as my first modality to give me a solid understanding in anatomy and imaging principles. The second modality was Radiation Therapy. These two years of the program were challenging and were didactic and clinical based. The program prepared me well for a rewarding career.
One of the major turning points in my life occurred when my sister passed away suddenly while I was in college. In an ironic turn of events I had just started the radiation therapy portion of the program at TJU. It was a very sad moment in my life and was difficult to move on, but through all the grieving I still saw a silver lining and my motivation for successfully finishing my degree became even more important to me. She was 25 years old when she passed away but was mentally only at a 6th grade level, so in many ways she looked to me as if I were the older sister. My sister was a brave girl who taught me many important life lessons I don't think she was even aware of. She was and always will be an inspiration to me. I will always be grateful to the Radiation oncology team who were part of her care those many years ago because they gave me a chance to get to know her and because of that I wanted to become a radiation therapist to help other families such as mine.
I graduated in May 2007 with my Bachelors degree and continued the clinical portion of the program until August 2007. I was hired by my clinical site at Christiana Care Helen F Graham Cancer Center in Delaware and worked there until November 2011 at which time I accepted a position at University of Pennsylvania Health System in Philadelphia. While I have only been working in the field for about 6 years now, I have gained much knowledge and it has been a very rewarding period of time. This is a lifelong learning career as techniques and technologies constantly change.
It takes a strong mindset and a lot of compassion to work in the field of Radiation oncology. Radiation therapy is a very technical field, but beyond the technicality is the emotion associated with it. Every patient has a different story to tell and each one is meaningful. We as therapists are with a patient every day throughout their course of treatment and relationships are formed in which you learn about them and their lives outside of their diagnosis. They develop a deep sense of trust with all the team members that are part of their care. We are a critical part of their support network. The joy in seeing patients come back after follow-up cured from their diagnosis or in remission and how happy they are to be done their treatments is one of the best parts of the job. But for those patients who are terminal, the role of treatment is pain relief, but to these patients it is even more important to be a caring therapist and to be the one to comfort them during the delivery of their treatments. I am proud to call myself a Radiation Therapist and take my job very seriously and hope that if you decide to become a part of the Radiation Oncology network you are committed to the lifelong journey of knowledge, compassion and understanding this field entails, just as I am.