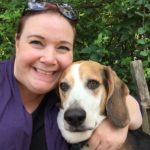 All parents ask their kids, "What do you want to be when you grow up?"  As a young child, I wanted to be an artist.  I drew on enough walls to prove that.  Then, after my parents gave me a Fisher Price toy doctor's bag, I wanted to be "Dr Kissy Chrissy."  In middle and high school, I took those aptitude tests that tell you which career you should go into.  I was very tactile and had good spatial perception, so they recommended engineering.  However, I stink at math, so I ruled that out.  Then for a while I wanted to be a Broadway singer.   I went away to college with no clear career path or interest, took a lot of classes in a lot of different subject areas (a typical liberal arts education) and in November of my senior year, decided—well , I guess social work school—because I honestly did not know what else to do.  My father was a minister and my mom a nurse, so I felt a natural inclination towards a helping profession.
I moved to Philadelphia, a great petri dish for learning about social injustice, need and advocacy—and I was hooked.  For the first time in my life, I felt that I was making a difference for people, challenging the system, speaking up for those who could not and empowering change.
My first love was medical social work; specifically working with AIDS patients.  When I started my career, lots of people were still dying of AIDS.  There were really no magic "cocktails" for keeping the disease at bay.   My patients were sick, scared, isolated, looked down upon and often alone.  Their stories appealed to me-as did trying to make the end of their lives better.   I knew from an early time in my social work career that I loved working with patients who were coping with life threatening illness—so the transition to oncology was fairly seamless.
I've been an oncology social worker for over ten years.  I've worked in both inpatient and outpatient settings.  I've lost many patients.  I have many patients who are survivors.  The work is challenging, unpredictable, emotional, sad, and hopeful all at the same time.  The cancer journey is a roller coaster ride for our patients, their support persons and their professional caregivers. I hate roller coasters—I physically get ill on them—but I love every minute of this ride and I'm not getting off any time soon.
When I tell people what I do for a living, they often respond, "that must be so hard," or "I don't know how you do that everyday."   Over the years, my responses to those statements have evolved.  I validate that the work is hard, but I make sure people understand that there is NOTHING else I would rather do.  I work hard to maintain a work life balance that allows me to leave the sadness and uncertainty of my job at the office everyday.  I love talking to my patients.  I am privileged to work with them, to be allowed into an emotionally vulnerable space with the simple goal of helping.  It is a gift I have been given to get out of bed every morning and do this work and I count my blessings everyday.
Oncology social work is not for everyone.  Many of my students, who spend nine months in an oncology field placement, tell me they could NEVER do this job full time.  The scope of loss and death in working with oncology patients is very difficult to manage and process.   Not everyone can do this effectively.  I still get sad when patients die.  I work hard to memorialize them, to be grateful for the work I was able to do for them and for the changes I helped make with them, even at (or perhaps especially at) the end of their lives.
Three years ago, I obtained my advanced certification in oncology social work (OSW-C).  This certification recognizes advanced practitioners in oncology social work who have been working as oncology social workers for three years after receiving their master's degree.  The purpose of this credential is "to promote excellence in psychosocial care to oncology patients, families, caregivers and their community "(oswcert.org).   I also received a post-masters certificate in end of life care and have received advanced training in cognitive behavioral therapy with cancer patients.  There are many opportunities within the field to advance practice, publish and become involved in professional organizations, like the Association of Oncology Social Work (AOSW.org).
So if you are up for the challenge, a career in oncology social work can provide years of reward and satisfaction!