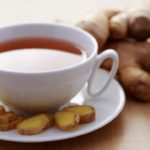 With the seasons changing, it is time to put away the popsicles, tomatoes, and watermelons of summer and replace them with the warming spices of fall – cinnamon and ginger. It will soon be a pleasure to wrap yourself in a blanket and curl up with a hot cup of ginger tea or warming soup. These two spices are not just tasty; they also have great medicinal qualities.
Ginger is a root, a member of the Zingiberaceae family. It is believed that ginger was first cultivated in South East Asia, but today it is cultivated worldwide. Ginger is a powerful antioxidant, anti-inflammatory agent, and has some anti-nausea properties, as well. It is typically used as a cold remedy, to help aid in digestion, and to help relieve an upset stomach. It is very versatile and can be used fresh, dried, candied, powdered, juiced, or as an oil.
As the days get chillier, warm up with one of  three new recipes. And as always, avoid excessive intake and ask your doctor if these spices could interfere with any medications.
Also see other recipes for Lentil Soup and Cranberry, Chocolate, Ginger Cookies.
Warming Ginger Tea
Author:
Ingredients
12 slices ginger
1 Tbsp Honey (optional)
Instructions
Pound the ginger slices down with a rolling pin. Place 3 cups of water and the ginger in a saucepan and bring to a boil. Reduce to medium heat and simmer for 20-25 minutes. Strain out ginger slices, add honey or other sweetener if desired, and enjoy.
*To create a milder flavor, reduce simmer time, or dilute with more water once the ginger is strained.
---
About the author: Margaret Merlie is a second year graduate student in Drexel University's Department of Nutrition Sciences and will earn her Master of Science degree in Human Nutrition in June 2015. She previously earned her Bachelor of Science degree in Exercise Science from Shippensburg University. For the past three years, Margaret has been working as a corporate health screening provider to help employees "know their numbers" and create ways to fit health and fitness into an often times hectic life schedule. She enjoys helping others work towards their nutrition and fitness goals.