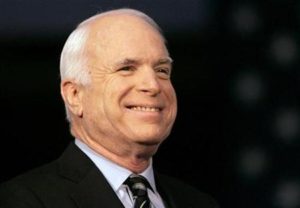 I happened to turn on the TV this weekend to see Senator John McCain talking on 60 Minutes about his latest cancer battle (he had been treated for melanoma in 2000). I do love to hear survivor stories – they can be so inspiring and remind me how important the work we do is, supporting people during their cancer journey. When I say support, I mean more than choosing the right treatments and helping manage nausea or other side effects. That's all well and good, but there is so much more to the picture. This segment made me think of one of the often-overlooked stressors during a cancer diagnosis – work.
Senator McCain talked about going back to work shortly after surgery and working every day after his radiation and chemo treatments. It was inspiring to see him return to the senate floor and receive hugs and pats on the back from senators on both sides of the aisle. It gives me chills to see how he tackles this second go-around with cancer with his usual can-do attitude. It also made me think about what an understanding and supportive employer he has.
But the reality is that most people don't have this level of support at work. Most can't go back to work days after cancer surgery. Their employers make it difficult, if not impossible, to come to work a few hours late so they can have treatment in the morning. They may fear losing their job if they let their co-workers know about the diagnosis.
At the same time, they need their job. They need income to pay the bills. They need their employer-sponsored health insurance to pay for treatment. They need their job – it gives them a purpose, an identity, a community, a reason to get up each day – fill in whatever role your job plays for you. So understandably, work can be a major source of stress and uncertainty.
At the same time, your healthcare team often knows very little about job protection and your rights and resources as an employee. Friends and family may share stories of other people's experiences – many of which are whisper-down-the-lane stories that are missing much of the details and/or the true story. So, what is a person to do? Fortunately, there is an organization dedicated to helping people manage concerns about work after cancer diagnosis and treatment.
Cancer and Careers offers education and support for people with a new cancer diagnosis, those working through treatment, and those getting back to work after treatment. For the newly diagnosed, they can help you decide who (and if) to tell about your diagnosis, answer questions about insurance and leave time. In addition, they offer resume review service, which can help people looking for work to deal with employment gaps related to treatment, grants for training to enhance or build new skills, educational conferences for patients and healthcare professionals, and so much more. In the coming months, we are excited to share a few guest blogs from the Cancer and Careers team discussing some of these topics!
So, while we can't all be John McCain (or have his employer), he can be an inspiration to us all. Tap into the resources of a helpful representative from your human resources office, a social worker at your cancer center, and the team at Cancer and Careers to take some of the stress of work off your already full plate.