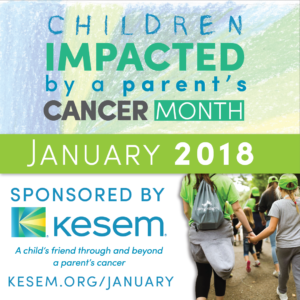 For the first time, January has been recognized as Children Impacted by a Parent's Cancer Month! There are over 5 million children who have a parent being treated for cancer, have lost a parent to cancer, or have a parent who is a survivor. These kids experience their parent's cancer in their own unique ways. Kids may feel worried and sad, have difficulty in school or interacting with peers and friends, have trouble sleeping, experience physical symptoms of worry, such as headaches and stomach aches, any combination of these or other reactions. Some kids will thrive despite the challenge of cancer, while others have a hard time managing.
There are many factors that influence the child's experience, including their emotional maturity, communication skills, how their family handles adversity, and their support systems. One common theme felt by these kids is that other kids just don't understand. Friends may be concerned about superficial things like clothes or appearance, while this child is afraid their parent could die (or has died).
Disruptions in the child's own schedule can be a concern for many kids. While some might think this is selfish, it is completely normal for a child to feel this way. Missing favorite activities or having to give up sports or other activities can add to the child's stress.
The child may worry about being separated from the parent for hospitalizations or even just the school day. It can be difficult for the child to see their parent go through physical changes, such as hair loss, weight loss, vomiting, etc. They may sense the level of stress in the home but be unable to put this into words.
Children are observant and may overhear conversations that add to their worry. Parents should talk to their children about their cancer, basing the discussions on the child's developmental level. Find some tips for talking with your kids here.
The good news is that children are resilient. With support from the people around them, they will come out stronger on the other side. Below are some great resources for parents with cancer and others (educators, family and friends) who are supporting the kids around them.
The PACT program (Parenting at a Challenging Time)
Learn about Camp Kesem – a summer camp for kids with a parent or guardian affected by cancer.
Top 8 Things Everyone Needs to Know About Children Impacted by a Parent's Cancer (with special Tips for families, friends, and educators)
Helpful resources from Cancer Care
Helping Children When a Family Member has Cancer from the American Cancer Society. 1-800-ACS-2345
When Your Parent has Cancer: A Guide for Teens from the NIH
Kids Konnected provides friendship, understanding, education and support for kids and teens who have a parent with cancer or have lost a parent with cancer.