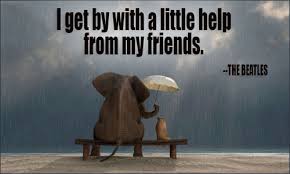 Over the past several months, I've been supporting a dear friend through his cancer diagnosis, appointments, treatment decisions and planning, and adjustment to life with cancer. This is not new territory for me; I've been an oncology social worker for many years, and I've walked this path with many patients and their families along the way. But this time, it was someone whom I call "friend."
Friendships are important in this era of the modern family. For many of us who choose not to marry, or have children, or who live far from our biological families, our friends are our chosen family. Writer Armistead Maupin calls our friends our "logical family." Emily Dickinson wrote, "my friends are my estate." No words could ring more true for me. My friends are the people who make sense in my life. Without my friends, my life would be fairly empty.
So, as I've sat with this friend in the past several months, I've tried to be present, loving, caring and supportive. But I'm also scared and worried. Will the treatment be successful? Will the side effects be manageable? Will he be able to continue to do the things he loves during and after treatment? And most of all, what can I do?
Earlier this week, we sat down and I said, "you are driving this bus. I'm happy to be your bus aide. I'll take care of those troublesome kids along the way if you need me to. But-you are driving. I don't want to step on your toes or assume that you need me to come to this appointment or drive you to this treatment, because I know doing for yourself is really important. The bottom line is, our friendship knows no bounds, and cancer can't take that away. All you have to do is ask, and I'll be there."
If you have a friend who is faced with a cancer diagnosis and treatment, they need you now. Your presence and your knowledge of who they are and what makes them tick, is so important to helping them maintain their sense of self when everything around them feels thrown out of control. It's okay to be worried or scared and to tell your friend this along with, "I love you," or "I'll be here." As it is sung so beautifully by James Taylor, "Winter, spring, summer or fall, all you have to do is call." I've got your back my friend.