This blog is the fourth in the series "Demystifying Mindfulness." I'm hoping I can help us all understand a little bit more about the practice of mindfulness, how it can be helpful and how we can integrate it into our lives.
We decided to spend some more time with the mindfulness apps before writing about them, so look for that blog next week. This week, we have a blog from Nancy, a patient who has used mindfulness throughout her cancer journey…and as she has learned…even before.
---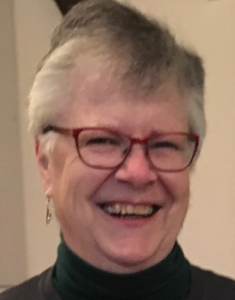 Ten years ago I was diagnosed with Multiple Myeloma. At the time I was working as a physical therapist specializing in treating people with cancer. One of the things that I always felt was important for me to do for my patients was to know what was available in the community for people with cancer. So, when I was diagnosed I decided that I needed a way to keep myself sane during those dark moments of "what ifs."
I already knew about the Cancer Support Community and that they had a meditation group. I decided to join the meditation group to see if it might help me get through the tough beginning stages of learning you have cancer. The group was quite varied with people at all different stages of all different types of cancer. But, what we had in common was the need to bring some calm to our thoughts and our lives.
A few months later, a basic mindfulness course specifically for people with cancer started at the local university. I joined that group and again was among people with all different stages and types of cancer. One of the rules of the class was that we couldn't dwell on our stories of cancer. If the cancer diagnosis affected how we could do something, then accommodations would be made, but other than that we weren't people with cancer.
One of the things that I quickly learned was that I had been meditating all of my life, but didn't know that was what I was doing. I had always needed my quiet times at home and at work to quiet down all of the noise in my head. I tend to have those racing thoughts that can interfere with whatever you might be doing. The other thing that I learned was how to tap into the energy of my surroundings and to bring it inside me to support me. I know this sounds crazy, but it works for me especially when I am with a group of people who are also meditating. I can feel the support of those in the room and am comforted by it.
I find that now I go into my quiet, meditative mode with a little different focus than before I took the mindfulness course. I'm able to quiet myself and my thoughts more easily and can step out of my current situation to allow the moment to be whatever it may be. This has served me so well over the last 10 years as I've had to make decisions about treatment, have treatment, have a stem cell transplant, retire, move, be diagnosed with Acute Lymphoblastic Leukemia  (ALL) in 2016, and then live with 2 cancers that are active. Mindfulness helps me bring me back to the core of who I am, what is important to me and make the decisions that I have to make about living with and being treated for cancer.
One of the things that struck me when I was hospitalized for a stem cell transplant in 2010 was how calm I felt and how sure I was that I would be ok. One of the nurses on the floor came into my room one day and asked me if I noticed that staff would come into my room and stop for a minute without doing or saying anything. I thought that it was kind of strange that this was happening, but what do I know? The nurse told me that there was a sense of tranquility when they approached my room and that they came in to reset before moving on to the next patient or task. That's what mindfulness has helped me with, to be calm when things aren't good and also when they are good. To be able to be there for me.
I am not calm all of the time, but I can quickly get to the place of clarity for me when I need it the most. My journey with cancer hasn't been easy, but it has been manageable with the tools that I have through mindfulness. I have my highs and my lows that try to distract me, but I am able to make good decisions for me even when in crisis because I can come back to that core of me.
While I was still working, I often introduced mindfulness to my patients who also had cancer. I gave them a couple of simple practices to do at home. Those who were drawn to the meditation practices that I gave them began to look at their cancer experiences in a different way. I usually gave the practices to the people who were having difficulty with pain. Although the pain didn't necessarily change, the patient was able to live with it a little more easily. When you are living with cancer meditation can change how you view it and how you dwell with it.
Find out more about programs, including mindfulness, at the Cancer Support Community.
Find out more about mindfulness and relaxation from Cancer Care.
---
Nancy was diagnosed with Multiple Myeloma in 2008 and with Acute Lymphoblastic Leukemia in 2016. She is a retired physical therapist who worked for Penn Therapy and Fitness specializing in treating people with cancer. She is an active participant and program co-chair for the Philadelphia Multiple Myeloma Networking Group. Nancy's passions are reading and traveling throughout the USA and Europe. Nancy has been named the LLS's "Honored Hero of 2018" for the Philadelphia Light the Night Walk on Oct. 27.