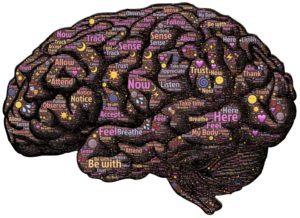 This blog is the first in a series I'm going to call "Demystifying Mindfulness." I'm hoping I can help us all understand a little bit more about the practice of mindfulness, how it can be helpful and how we can integrate it into our lives.
I'm going on this journey with you. I'll try different things too. I'll tell you what I liked and what I didn't. I hope you will feel comfortable sharing your own tips, strategies and even your challenges at incorporating mindfulness into your own lives.
Full disclosure: I'm not sure about all this mindfulness stuff. I haven't been particularly successful employing mindfulness techniques into my own life. But, in every article I read about coping with anxiety and depression, one of the techniques that is mentioned is "practice mindfulness." I felt like I needed to understand more about how I could practice mindfulness in my life in a way that was meaningful and useful.
So, I think it's important to unpack what mindfulness is. A simple google search of "what is mindfulness" generated 153,000,000 results. Here are a select few:
From Mindful.org
"Mindfulness is the basic human ability to be fully present, aware of where we are and what we're doing, and not overly reactive or overwhelmed by what's going on around us."
From Psychologytoday.com
"Mindfulness is a state of active, open attention on the present. When you're mindful, you carefully observe your thoughts and feelings without judging them good or bad. Instead of letting your life pass you by, mindfulness means living in the moment and awakening to your current experience, rather than dwelling on the past or anticipating the future."
From Greatergood.berkeley.edu
"Mindfulness means maintaining a moment-by-moment awareness of our thoughts, feelings, bodily sensations, and surrounding environment, through a gentle, nurturing lens. Mindfulness also involves acceptance, meaning that we pay attention to our thoughts and feelings without judging them—without believing, for instance, that there's a "right" or "wrong" way to think or feel in a given moment. When we practice mindfulness, our thoughts tune into what we're sensing in the present moment rather than rehashing the past or imagining the future."
In 2004, a group of clinical psychologists proposed the following operational definition of mindfulness as:
"Mindfulness is the self-regulation of attention with an attitude of curiosity, openness, and acceptance (Bishop, S.R., et.al., 2004)."
All I have to say is, "huh?"
So, let's agree that the first thing we need to do is have a knowledge of these "book" definitions of mindfulness, we also need to be mindful that these definitions may be:
Hard to achieve.
Difficult to employ.
Need to be modified to meet our own abilities, needs and methods.
My own definition of mindfulness might start with a quote from one of my all-time favorite movies, Wayne's World: "live in the now."
Then my definition would be followed by terms like "paying attention," "thinking before speaking/doing," "finding joy in little things around me," and "stopping to smell the flowers."
How do you define mindfulness? And how does this definition help guide your mindfulness practices?
In my next blog in this series, I'll explore what mindfulness is not as well as myths about mindfulness.
References
Bishop, S.R., Lau, M….Devins, G. (2004). Mindfulness: A proposed operational definition. Clinical Psychology: Science and Practice, 11(3), 230.
***
Christina is a clinical oncology social worker who joined the OncoLink team in 2014. Christina blogs about resources available to the cancer community, as well as general information about coping with cancer practically, emotionally, and spiritually. Christina is an avid knitter and spends a great deal of time posting pictures and stories about her three beagles, Linus, Maggie and Huckleberry. She also loves to travel, cook and is an avid Philly sports fan.