My husband, Gary, was diagnosed with late-stage prostate cancer. As in, no cure because it had already metastasized outside the prostate.
But Gary—tenaciously, courageously—went on to defy the odds and live ten really good years.
How is it that some people seem to flourish despite life's challenges, while others wither up and curl in on themselves?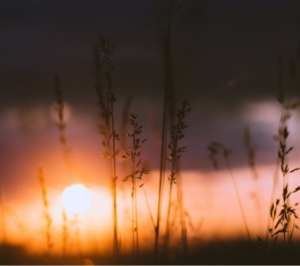 Thriving doesn't mean we no longer allow ourselves to feel sorrow over a serious diagnosis. (For the record, Gary and I danced with fear and anxiety and self-pity for far too long.) Thriving ultimately is taking our story and our hard places with us and stepping back into life.
If you're in that place, consider these 5 strategies for living well during and beyond cancer, taking into consideration levels of health and energy:
1. Stay connected.
There is the temptation to withdraw in our pain and discouragement over a cancer diagnosis. It's less awkward not to be around people who don't know what to say.
But consider this: If your favorite cousin or best friend was going through a hard time, you would want him/her to be part of the gathering around your table. And that's how your family and friends feel about you. Stay connected with your people.
2. Learn something new.
There's a Harvard Medical School article, titled "Rev Up Your Thinking Skills by Trying Something New," indicating three specific things that may help keep the brain more resilient. And heaven knows mental resilience is needed for dealing with cancer, whether you're the patient or caregiver.
Social connection is one of them (see #1), as is challenging the brain by learning something new. Ask a friend to teach you to play the guitar. Sign up for that online Italian course. Try your hand at sign language (no pun intended). Learn to do something you've always wanted to do.
3. Challenge yourself.
Step away from the comfortable. Explore. Create. Because of his terminal diagnosis, Gary and I took up hiking and snow-shoeing in the Cascade Mountains near our hometown. And then we branched further afield and took on Wyoming's Tetons and the Colorado Rockies.
Daring to try something beyond our comfort zones doesn't have to involve physical activity. This thought from Abigail Brenner, M.D.: "Challenging yourself pushes you to dip into and utilize your personal store of untapped knowledge and resources."
What is in our personal stores of knowledge and resources? What challenge can we set for ourselves that would utilize this reserve and inspire us to continue living bravely?
4. Give back.
An article in Forbes reports on the science that confirms "having a purpose outside yourself is good not only for your mental health, it's also good for your physical health, longevity and even your genes."
I have friends who have given back in ways that were within their capacity while dealing with this disease. Some staged major fund-raising events for cancer causes. Others knitted prayer shawls for chemo patients and caps for newborns. Gary and I founded a non-profit and traveled across the country sharing what we were doing to live well with late-stage disease.
It's about having an outward focus, noticing other people going through adversity, and doing what we can to help alleviate their challenges. This takes the focus off our own hard places for those few moments, that hour, that day.
5. Lean into faith.
Gary's and my faith sustained us in our hard places as we leaned more deeply into God. And by leaning into God, I mean reading His Word, and pouring out our hearts to the One who keeps Earth from colliding with Venus, the One who put the playfulness in chipmunks and the wag in a dog's tail, who planted redwood trees and strawberries, and designed the gorgeous, fluffy white stuff that swirls from the skies to sugar-coat the mountains, the One who created us for friendship with him. That God.
A final thought
It was C.S. Lewis who said: "Hardships often prepare ordinary people for extraordinary destiny."
I look back on our wilderness years – those thirteen years that included a job lay-off, loss of home and investments against retirement, a live-in mother sinking into dementia, cancer, and stumbling into widowhood.
And while I would never wish that on anyone, I am grateful for how that desolate place shaped me into who I am today: more compassionate, kinder, with stronger faith and a deeper appreciation for all the simple pleasures that make up my current brimming life.
And quite frankly, I like this person better.
---
Marlys was the caregiver of her husband Gary who lived ten years after being diagnosed with late stage prostate cancer. After his diagnosis, together they founded a non-profit called Cancer Adventures, sharing their story with groups across the country. After Gary's death in 2014, Marlys has continued to share the underlying theme of her and her husband's story: How challenges are a part of life but you have choices. She has a passion for helping people navigate life's challenges, having negotiated a few herself.