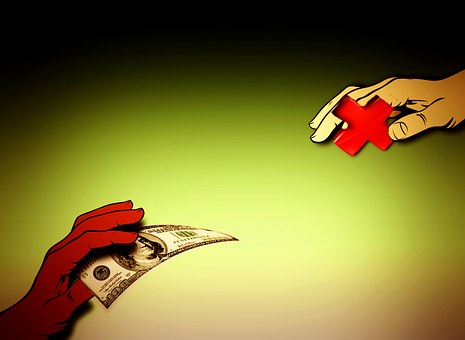 Open enrollment is upon us at my employer. We are pretty lucky. We have excellent health benefits for a fairly nominal monthly contribution from each employee. There is no doubt the premiums (what we pay for our health insurance) have increased since I first starting working for my employer, but it is still incredibly affordable and worth my peace of mind.
The same day I received my open enrollment packet in the mail, I read an article from NPR "High deductible health policies linked to delayed diagnosis and treatment." This headline did not at all surprise me. But then again, I have a lot of knowledge in the insurance world and I've been warning cancer patients for years about the dangers of high deductible plans. So, I thought it might be a good idea to unpack a bit about just what these plans are.
Many employers, in an attempt to reduce their out of pocket contributions to healthcare premiums, are now offering high deductible plans to their employees. These plans typically have very inexpensive premiums (the "front end" cost) for both the employer and the employee. But the fine print, the out of pocket expenses for the employee, can be astronomical. In my clinical practice, I found that many patients elected these plans because they were sold on how in expensive they were. They didn't consider the "what-ifs."
Let me give you an example. Floyd, (name changed to protect privacy) 57-year married father of 5 kids under 18, was working for a group that offered a high deductible plan. Since he was carrying the cost of insurance for himself, his spouse and their five children, he elected the "high deductible" plan as it offered the most affordable monthly premium. They were all in good health and he did not think this would be an issue for the family. The annual family deductible was $10,000.
Then, Floyd got cancer.
Remember, a deductible is what you must pay out of pocket before your insurance kicks in a dime. So, Floyd, newly diagnosed with cancer, was going to need all his diagnostic tests and chemotherapy and he was on the hook for the first $10,000 of that treatment. Not only did he not understand the immediate financial impact this would have on his access to care, but Floyd also had no rainy-day plan, no flexible healthcare savings account…NOTHING. Floyd did not have $10,000 and knew this could delay his life saving treatment.
Floyd did have one lucky card though. His disease type and his total household income qualified him for co-pay assistance through a third-party foundation. However, this didn't cover the entire deductible. Floyd still needed to come up with $3500 to cover his deductible. He had to get creative, ask family members and friends and even set up a fundraising page.
And guess what? Floyd got sick in October. His deductible resets on January 1st. So not only did he have to come up with his $10,000 deductible to start treatment, he was going to have to come up with it again in January to continue treatment.
And don't forget. Floyd has insurance.
This is the reality of the new "under-insured." While the Affordable Care Act has greatly improved access to insurance for millions of individuals, it has also created an insurance industry that has resulted in millions of UNDER insured people.
So, what can you do if your employer is only offering a high deductible plan?
Look into options for a health care savings account/flexible spending account. Sock away some money each pay check to cover your deductible costs. There are limits to what you can put into these accounts annually, and if you don't use them, you lose them—so it's a calculated risk.
Think about how you would cover that deductible in the case of catastrophic illness. How much is in your rainy-day fund—because if you get sick, it will be pouring.
Can you get different insurance options though your spouse?
Could you get a better, more affordable plan through the healthcare marketplace (www.healthcare.gov). Remember you can only purchase this plan during open enrollment (Nov/Dec annually) or if you trigger a special enrollment period making you eligible. Talk with a social worker or financial advocate about this option.
Sadly, this is the new reality of health insurance in the United States. Be sure to read between the lines when you are considering your open enrollment options. Don't hesitate to ask for help if you are having a hard time understanding your options. And by all means, think about the rainy-day. They happen more than we really know.
---
Christina is a clinical oncology social worker who joined the OncoLink team in 2014. Christina blogs about resources available to the cancer community, as well as general information about coping with cancer practically, emotionally, and spiritually. Christina is an avid knitter and spends a great deal of time posting pictures and stories about her three beagles, Linus, Maggie and Huckleberry. She also loves to travel, cook and is an avid Philly sports fan.