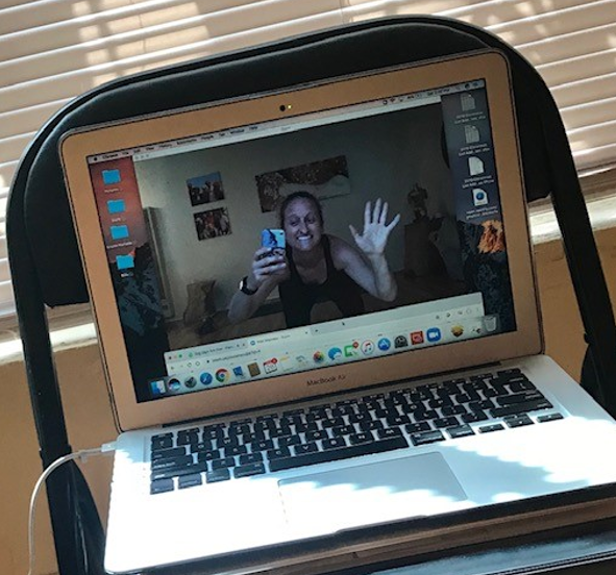 Oddly enough, my cancer treatment trained me for this unforgettable moment in history. All my life I had been chubby. In my 30's I picked up running and finally got into shape. Someone suggested taking up yoga to improve my running, I did, and it worked like a charm. After a year of practicing yoga, I was diagnosed with stage 3 breast cancer at 35 years old. During my treatment (double mastectomy, radiation and chemotherapy) running was out of the question but I could still practice yoga . . . and that's when the magic happened! Yoga has a way of clearing your mind and turning up the volume on what is true and most important to you. My guess is a lot of you have experienced epiphanies during your cancer treatment? After all, when you are afraid you might die, everything else that used to scare you isn't so scary anymore.
In the middle of my treatment, I realized 2 very important things. First, I hated my job as a Realtor. It was way too stressful and I needed more purpose. Second, being healthy going into my treatment and STAYING healthy DURING my treatment was critical to coming through on the other side an even better, stronger version of me. So, I quit my job and trained to become a yoga/fitness instructor. My cancer blessed me with my passion, and I now train people of all ages and ability levels to play into their potential, be good to their bodies and prepare. Prepare for the times like now! You want to be strong when the storm hits so you can weather it with strength, grace and resilience.
Since the quarantine orders, I decided to do what I know and do best – teach! I am teaching 14 classes via Zoom throughout the week – something for everybody! With the impact COVID – 19 is having on us physically, mentally and culturally, it is imperative to stay healthy! Move your spine in all 6 directions to keep your Central Nervous System firing on all pistons. Breathe deeply to think more clearly. Break a sweat so you don't come out of this ordeal twice the size you started. Find a reason to set your alarm. It is easy to succumb to laziness, depression and binge watching especially when you're confined to your house. Keep moving!!! There are a gazillion online fitness/yoga videos out there, and mine is even free. With all this technology we've used for decades, we can do this. In fact, I even taught a chair yoga Zoom class this morning which my mom in AZ, aunts in WI, ex-boyfriend's mom in IN and best friend in WVA attended. It was surreal and wonderful. Most normal I have felt in weeks and a silver lining to this sludge.
What's the point? Your cancer treatment taught/is teaching you to be tough, resilient and connect to the ones you love. Designate a part of everyday to strengthen your body and clear your mind so you can better connect to others. We may have to socially distance in public, but there are plenty of ways to ban together. . . Facebook, Facetime, Zoom, an old-fashioned phone call. We will get through this, but we'll do it so much better if we take care of ourselves and stay connected to each other. Stay safe out there! Keep movin'!!
---
Jenny Driessen is a 42 year old yoga/fitness instructor in San Diego, CA. Her passion and purpose is to inspire people to get/stay fit mentally, physically even spiritually so they can experience life to its fullest ….and withstand the tsunamis when they hit! If you want to join my zoom classes, find me on Facebook Jenny Driessen (the 42 year old yoga teacher) or email [email protected] for the schedule.