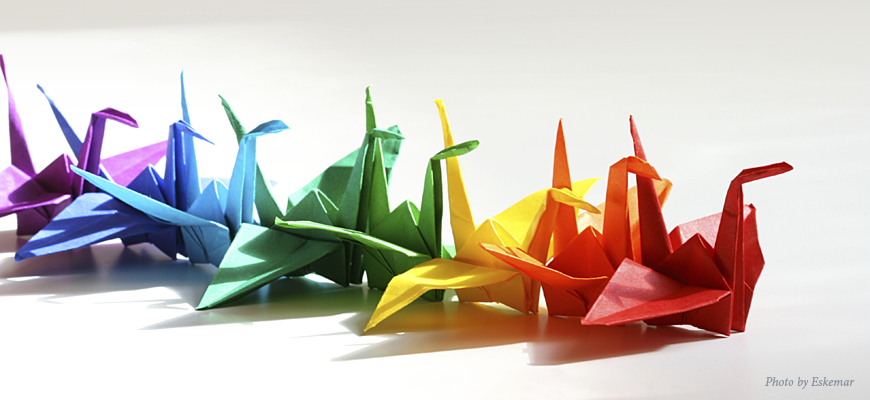 Jongi-jeobgi, the Korean art of paper folding (often called origami), was introduced to me as a child by my mom. She was a watercolor artist at the time, so naturally she attempted to teach me how to sketch. However, she soon realized that I was more interested in folding the paper in front of me instead of drawing on it. Thus began my journey to learning paper folding and wanting to share the art form through paper folding therapy.
When I began teaching paper folding, I taught at a local nursing home in my hometown of Detroit. Though I was supposed to be the teacher, I quickly realized that I was also the student: I shared my passion for paper folding with seniors and in turn, they shared their inspiring life narratives with me. This mutual relationship encouraged me to continue building connections with more communities once I moved to Philadelphia for college. Eventually, I was fortunate enough to receive the opportunity to become a Quality of Life Volunteer for the Radiation Oncology department at Penn Medicine.
Initially, I was nervous- I was just a college student and had never taught in a clinical setting, nonetheless to patients! Luckily, the Patient Engagement team and Radiation Oncology staff were incredibly welcoming towards me and my "Origami Therapy" program. Never before had I been surrounded by such a caring community that was determined to truly improve the well-being of everyone who stepped foot into the space. Seeing the strength emanating from the team motivated me to make sure that I uphold that high standard with the "Origami Therapy" program.
During my two years of volunteering at Penn Medicine, I have met countless inspiring individuals and been blessed with their stories. Patients, waiting for the treatment machines to open, are so eager to talk about their upcoming travel plans or share photos of their dogs that they sometimes forget about the piece of paper in their hands. Caregivers, patiently standing by in the waiting room, make two paper flowers instead of one to share with patients after they complete their treatments. In between each fold, I learn more about the people sitting across from me as they themselves unfold more stories about their lives. Our conversations are a never-ending piece of craft: fold the paper, unfold a story, fold the paper again, unfold a story, and so on.
These interactions pushed me to express my gratitude for every patient, caregiver, and healthcare worker in the department. I became inspired by a popular Japanese story called "Sadako and the 1000 Paper Cranes". It details the life of Sadako Sasaki, a young girl diagnosed with leukemia after the Hiroshima bombing. In efforts to help, Sadako's friend told her of an ancient legend: If an ill person folded 1,000 paper cranes, then that person would get well. Sadako was so moved by the legend that she set out to fold 1000 paper cranes during her hospital treatments to distract from the pain. Though she only folded 644 cranes, her community members folded the remaining 356 to reach 1000 cranes. As I witnessed Sadako's exuberance and strength in the Radiation Oncology waiting area, I started teaching the paper crane and recounting the story of Sadako to promote health and healing in the waiting area.
Paper folding/origami therapy may not be as widely recognized, but my experiences at Penn Medicine can testify to its universal ability in bridging together communities. What started out as a personal hobby has now turned into the opportunity to connect with amazing, admirable individuals every week. I cherish my moments in the waiting area, which remind me to always look between the folds.
---
Seung (Sophia) Kim is a rising senior at the University of Pennsylvania studying neuroscience. After nearly a decade of teaching origami, Sophia received her International Paper Folding Teaching License in 2017 and continued sharing her love for origami when she moved to Philadelphia. She is passionate about leveraging science, technology, and the arts to create social impact.