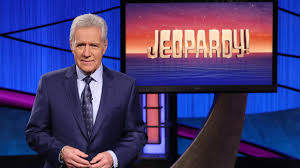 It's been a year of lots of losses.
Lots of sadness and grief and pain.
And also strength, grit, resilience and hope.
All of this is what I'm feeling today, as I prepare myself mentally to watch Alex Trebeck's last episode of Jeopardy tonight. I'm grieving another loss—of someone I never met, never personally knew—but who was in my home with me every night since I was a teenager.
Alex was a great professional. Quick witted, intelligent and genuinely interested in the lives of the contestants he saw episode after episode—no matter how bizarre they may have been. He had an amazing sense of humor that even in those moments where contestants answered the easiest questions wrong, he let them down easily and with grace.
He brought all of this to his cancer journey too. I remember the day he announced he was diagnosed with stage IV pancreatic cancer. As a cancer professional, I knew what this meant. His prognosis was poor; life expectancy was limited. I was so sad for him and his family. So was everyone else. The outpouring of emotions, prayers and well-wishes was remarkable.
Alex let us in to his cancer experience. He described his pain – both physical and psychological -in a raw and truthful manner that didn't sugar coat what he was going through.
He carried on. He loved his job and it showed. He taped episodes until 10 days before his death.
He did what he loved until he couldn't do it any longer. I think that was so important to his legacy – to what he leaves behind.
So tonight, I'll raise a glass to Alex, try my hand at double jeopardy, and grieve for this person I never knew. Thanks for the memories, Alex.
---
Christina is a clinical oncology social worker and the psychosocial content editor at OncoLink. Christina blogs about resources available to the cancer community, as well as general information about coping with cancer practically, emotionally, and spiritually. Christina is also an instructor at the Penn School of Social Policy and Practice. In her spare time, she loves to knit and volunteer with her therapy dogs, Linus and Huckleberry. She also loves to travel, cook and is an avid Philly sports fan.