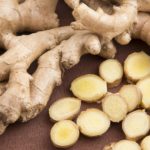 Ginger is a root, a member of the Zingiberaceae family. It is believed that ginger was first cultivated in South East Asia, but today it is cultivated worldwide. Ginger is a powerful antioxidant, anti-inflammatory agent, and has some anti-nausea properties, as well. It is typically used as a cold remedy, to help aid in digestion, and to help relieve an upset stomach. It is very versatile and can be used fresh, dried, candied, powdered, juiced, or as an oil.
As the days get chillier, warm up with one of these three recipes. And as always, avoid excessive intake and ask your doctor if these spices could interfere with any medications.
Also see recipes for Warming Ginger Tea and Lentil Soup.
Cranberry, Chocolate, Ginger Cookies
Ingredients
1 cup all-purpose, whole wheat, or gluten free flour
¼ cup wheat germ
½ tsp baking soda
½ tsp salt
¼ tsp ground ginger
1 large egg (or substitute 1 Tbsp chia seeds and 3 Tbsp water)
¾ cup packed dark brown sugar
1/3 cup canola oil
1 tsp vanilla extract
½ cup quick or old-fashioned oats
2 oz dark chocolate, chopped
1/3 cup dried cranberries
¼ cup crystallized ginger, chopped
Instructions
Preheat oven to 375°F
Whisk flour, wheat germ, baking soda, salt, and ground ginger in a small bowl. Whisk egg, brown sugar, oil, and vanilla in a large bowl. Combine the wet and dry ingredients in the large bowl. Add oats, chocolate, cranberries, and crystallized ginger. Stir to combine. Drop tablespoon sized balls of dough on ungreased baking sheets, about 1 ½ inches apart.
Bake until puffed and barely golden around the edges, about 8-10 minutes. Cool on pans for 2 minutes before transferring to a wire rack to cool completely.
Calories:
115
Fat:
4g
Carbohydrates:
17g
Fiber:
1g
Protein:
2g
---
About the author: Margaret Merlie is a second year graduate student in Drexel University's Department of Nutrition Sciences and will earn her Master of Science degree in Human Nutrition in June 2015. She previously earned her Bachelor of Science degree in Exercise Science from Shippensburg University. For the past three years, Margaret has been working as a corporate health screening provider to help employees "know their numbers" and create ways to fit health and fitness into an often times hectic life schedule. She enjoys helping others work towards their nutrition and fitness goals.