Something a patient said to me this past week really struck a chord, prompting me to shift the basis of this blog post just a bit. It was one of those moments that makes you draw in a deep breath before even attempting to reply. As we casually discussed her treatment for that day and her symptoms, she said, "Everyone is different. You know the old adage, 'you don't know 'til you know?' Well… as much as everyone says they understand, the bottom line is- 'you don't know 'til you know.'" I flashed back to all of those times as a nurse that I've told a patient, "I understand." Did I really? I may understand the pathology of their disease or the mechanism of action of the medication I was administering, but as much as I tried to tune in to their feelings, both emotionally and physically, it was true—I really don't know what it is like for my patients.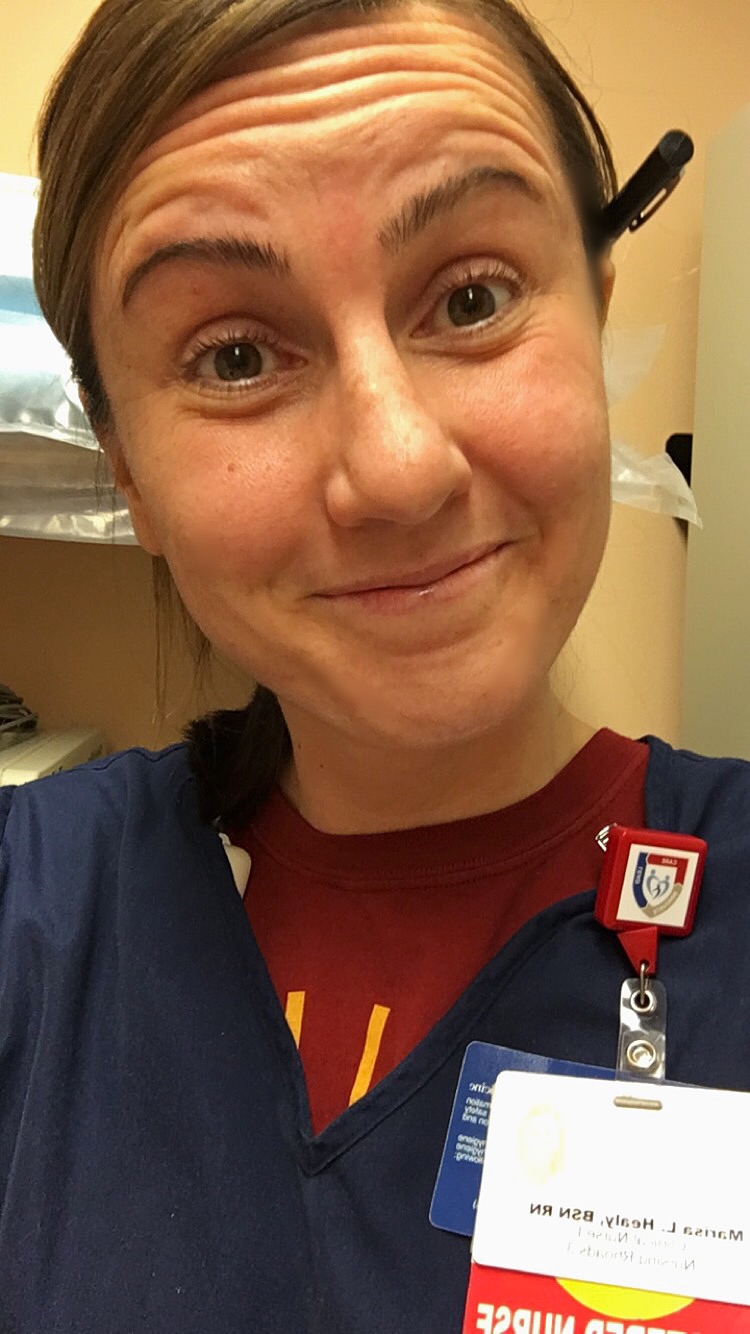 As I contemplated this over the next few days, I realized that even though I may not know what my patients are going through firsthand, the care I have for my patients won't change. With each encounter I approach my patients with an open mind, listening to their needs when they are able to express them and, more importantly, picking up on their unspoken needs. Another realization hit me after talking to this patient and seeing her family member sit next to her, nodding quietly in agreement. For those of you caring for a loved one diagnosed with cancer, you have probably come to this conclusion pretty quickly. As much as you try to be there through doctors' appointments, lab draws, scans, and quiet moments at home, you also don't truly know. And this might leave you with a fleeting moment of guilt, but hopefully it is just as fleeting as mine was. Because you are more valuable and necessary to your loved one's journey than you might realize.
My original idea for this post was how one can be an active participant in his or her loved one's cancer diagnosis and treatment, and ways to make either inpatient or outpatient chemotherapy appointments more tolerable. In a way, the whole "you don't know 'til you know" premise is the first thing you have to accept. Bottom line is, no matter how much you try, you will never know what your loved one is feeling. And that is in no way your fault. Once you accept that, you can make sure you communicate with your loved one regularly about how much they want or need your assistance. It could change from day to day, so communication is key.
Depending on your level of involvement, I'll include some of the most common tools and ideas I've seen, both for inpatient hospital stays and during outpatient chemo treatments, that will make you a superstar chemo companion.
I'd have to say, above all, comfort is what it's all about. If a hospital stay is planned, remind your cancer warrior loved one to bring along a comfy blanket, pillow, or stuffed animal. If they tend to get hot easily, invest in a tiny bedside fan. Have a few pictures or small figurines that will brighten the room up a bit? Bring them along! Just avoid anything really valuable or that might be easily broken. If they are sensitive to lights, try out a sleep mask. Same goes for noise—headphones or earplugs work wonders! Consider packing an extension cord for electronic devices, like tablets and phones (most facilities have free wifi, and check with a staff member before using the extension cord. Some hospitals may not allow them). A comfy pair of slippers with grip on the bottom will make them a bit cozier, too. If there is a refrigerator the patient can use, stock up on some of their favorite drinks and snacks, as long as they are approved as part of their diet.
For outpatient visits, which tend to last anywhere from twenty minutes to six hours, comfort applies just as much. A nice tote bag that can easily be packed and transported to and from appointments with all of the essentials is a great gift idea. Again, a warm blanket (check out blankets you can make with photos on them on sites like Shutterfly and Snapfish!) will keep your loved one comfortable. Snack bags and packed lunches that can be shared with the patient and his or her visitors is a nice way to normalize the setting and make it more of a laid back outing. I've often seen patients reading, especially prayer books and motivational memoirs, or listening to music. At the infusion center that I work at, we have puzzles out on the tables for guests to help finish, after which we frame and hang the completed ones. Consider bringing a deck of cards or board game for longer treatments.
Chemo appointments can actually be a good time for patients to sit back and zone out for a while, so as far as communication goes, ask if your loved one would rather have you there the whole treatment, or just as a means of transportation (or maybe not at all). Either way, it is their choice! Your doctors and nurses will let you know if they feel like a support person should stay, but it is not uncommon for me to hear patients say that they enjoy the time alone while at the infusion center, so don't assume you should accompany them every time for the whole time.
Aside from making treatments and hospital admissions as comfortable and "normal" as possible, the first thing I recommend to a patient facing a cancer diagnosis is to keep a notebook or journal on them at all times, ready for those random questions and thoughts that pop up at any time. Having those thoughts, questions, and fears with you as you see your doctor or sit with your nurses at the infusion center will make it easier to organize your thoughts and keep track of feelings and symptoms. It's always helpful to have someone with you at doctor's appointments as well, keeping notes and listening, so that you both can recount what was said. In a time where information can be overloaded, four ears are better than two!
These tips are merely a guideline for those of you helping a loved one through treatment—as my patient stated, everyone truly is different! Talk with your loved one, support them the best way you know how, and remember—even though you may not know, you both know you care. And that is invaluable.