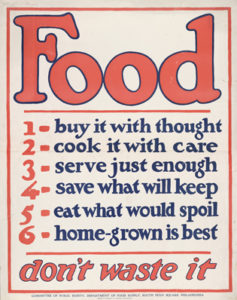 March is National Nutrition Month, an annual educational campaign by the Academy of Nutrition and Dietetics. This year's campaign is titled "Go Further with Food." The campaign brings attention to food waste and how we, as consumers, can reduce our own food waste. I was surprised to read that the USDA estimates 30% of US food is discarded – not eaten because it had expired, gone bad or was too much for the person to finish, among other reasons. The USDA has been educating the public since World War I about reducing food waste – and many of the same messages still apply!
The USDA has organized a US Food Loss and Waste Challenge for organizations across the food chain, from farmers to schools and restaurants. While the food challenge is not officially open to consumers, there are many ways we can do our part to reduce food waste. Not only can this help the environment, it can help us save money too!
Start reducing waste by:
"Shop" your refrigerator first! Build your menu based on what you have already.
Plan your menu for the week and make a shopping list. Shop from that list only – don't be tempted by all those impulse purchases!
Think twice before buying in bulk – will you realistically use this amount of food before it goes bad?
Think of creative ways to use things you would have thrown away. For example, use stale bread to make croutons or bread crumbs.
When eating out, think about portion size – this can help with maintaining a healthy weight too!
If portions are large, ask for a to-go container. But make sure to eat the leftovers!
Growing a veggie garden? I found it impossible to keep up with all those squash and tomatoes! Donate what you can't use to a local food bank or freeze or can them for winter.
Over the last year or so, I have challenged myself to do a better job planning our family meals and wasting less food. It gives me a sense of pride to get to the weekend and see a mostly empty fridge. I also find we are more likely to eat the leftovers when the fridge is less crowded and we can actually see them! I have found that when I stick to the menu plan and the shopping list, my family eats better and we save money. This month has inspired me to keep up the good work – and take it further! Freezer, I'm coming your way….
How do you reduce food waste?
Resources for more information
Learn more about the US Food Waste Challenge
Learn more about National Nutrition Month
Learn more about food waste from the FAO