Hello!
As this is my first blog post for OncoLink, I felt the best thing to do would be to introduce myself, explain who I am, my connection to cancer, and what I do. I'd first like to thank Carolyn from OncoLink for reaching out to me and inviting me to become an OncoLink blogger.
Before we begin, there is something you must know about me and what I believe. I believe with absolute conviction that anybody can cook. Not just microwave frozen dinners, but actually cook a delicious from scratch meal. Even if you burn water, I assure you with diligence, patience, and practice you can learn how to cook very well. A perfect example of this is my very beautiful and lovely wife, Jessie. When we first got together, she literally burned a pot of water once and couldn't even make a grilled cheese sandwich. Now, after spending the last 3 years helping me write my books and blog posts, she has gotten into practice to the point of where I trust her like I would trust a sous chef. If she can do it, you can to!
Who I Am and Why You Should Believe Me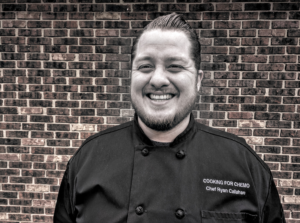 In my travels around the country, I have learned that each region has different ways in which they evaluate your believe-ability. So let me attempt to convince you of my authority with your regional qualifications.
My name is Chef Ryan Callahan. I am an American chef who specializes in teaching cooking techniques and culinary theory. I have 17 years of restaurant industry experience and have done every job from dish washer to general manager. I am practiced in every major culinary style around the world. I am the winner of not 1, but 2 Gourmand World Cookbook Awards. One in 2016 for my book, Cooking for Chemo …and After! And the second this year, in 2018, for Chef Ryan's How-to-Cook Cookbook. I have authored four books and teach classes around the country to cancer support groups.
For people in the northeast, yes! I went to culinary school, and I have won 2 Gourmand World Cookbook Awards. That is not just an award competing against other chefs in the USA, but competing against other chefs and authors from the entire world. I'm fancy like that.
For people in the south and mid-west, my recipes and cooking techniques focus on comfort food and home-style feeling of love. In addition to this, my cooking techniques are practical, easy to understand, and even easier to implement.
For people out west, many of these cooking techniques that I teach are new, unique, and cutting edge and can be applied and used in any dietary preference or nutritional regimen that you prefer. No, they don't come in 4k, but you'll get some really positive vibes when you eat my food.
For our neighbors to the north (Canadians), yes! I am American. And yes, my recipes typically use American measurements. However, converting my recipes into metric is very simple. In addition to this, I make many, many soup recipes for those long, cold Canadian winters.
Hopefully, with a bit of humor, you will now believe that I know what I am talking about! I really do know a lot about food.
What I Do
I am the founder of Cooking for Chemo. It is an organization that I run that specializes in teaching cancer patients and their caregivers how to understand the taste and flavor perception changes that occur during cancer treatments (esp. chemotherapy). Once you understand the taste and flavor changes, it makes it much easier to cook for a cancer patient. Understanding these changes makes it easier to cook for a cancer patient because they begin to understand why foods that they are familiar with now taste wrong.
I focus specifically on eating related side-effects only. I do not focus on specific nutrition nor am I a dietitian or a nutritionist. Your body's specific nutritional needs are unique to each person and is far to complicated for me to make recommendations for you. I'll be honest. I am far to busy to calculate your body's individual nutritional needs, that is your dietitians job.
What I do is teach you how to overcome the most common eating related side-effects like metallic taste, mouth sores, nausea, loss of appetite, disinterest in food, and difficulty chewing and swallowing. This list represents the major challenges that many chemotherapy patients face on a daily basis. By overcoming these challenges, my cooking and culinary techniques are able to work hand in hand with your dietitian to get you the proper nutrients that your body needs, while addressing your ability to eat. Uneaten food has zero nutritional benefit. By understanding the taste and flavor changes, you will be able to make food taste good again to you so that you can get the nutrition that your body needs for recovery and treatment.
My Connection to Cancer
My connection to cancer runs deep. Both of my grandfathers died from cancer, as did my best friend in college, Tommy. In 2013, my mother was diagnosed with HER2+ breast cancer. I spent the year from 2013-2014 acting as her full time primary caregiver. It was during this time that I learned and began to understand the unique challenges that cancer patients face on a daily basis, especially when it comes to eating. For the full story, visit my website: cookingforchemo.org.
What I Intend to Bring to OncoLink
I fully intend to teach you how to understand the flavor perception changes that occur during chemotherapy. It is very simple to understand, but requires some complicated thought and the willingness on your part to change the way you think about food, flavor, and your ability to perceive them. So I invite you on a journey of flavor and self discovery to learn these fun and fantastic techniques. Trust me, your friends and family members will applaud your new found cooking abilities!
-Chef Ryan Callahan
---
About the author:
Chef Ryan Callahan is a 2x Gourmand World Cookbook Award Winning Chef. Author of Cooking for Chemo …and After; Cooking for Kids with Cancer; and Chef Ryan's How-to-Cook Cookbook. He is also the founder of CookingForChemo.org