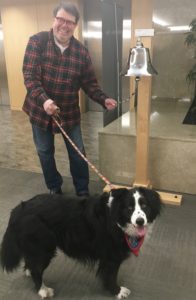 Today was the best day of my life, and it's not yet even 10 AM! I bid farewell to my arch-nemesis, Lil' e, short for enigma, and it was a parting that was so sweet. Even though we've known each other almost a year, I didn't know his name until a few a days ago. After I finish writing, this I shall never speak his name again.
Last June, I changed my primary care provider. As part of a routine checkup, an abnormally high PSA was found. I jumped to the conclusion it was cancer, but was reassured that there were other potential causes. A month later a second PSA came back even higher, and I was referred to a urologist. I began a journey routed through exams, biopsies, MRIs, bone scans, and consults with oncologists. Along the way, everyone I met was incredibly thorough, helpful, and encouraging. It was determined I had intermediate stage prostate cancer with a Gleason Score of 7. With the advice of my medical team and the help of knowledgeable friends I weighed all of my options, given my diagnosis and family history. I reached the decision that the best way to meet my goals around treating my cancer would be Proton Therapy.
"Proton therapy is external beam radiotherapy that works by aiming energized particles – in this case, protons – onto the target tumor. Because of the accuracy of the beam, proton therapy delivers a higher dose of treatment directly to the tumor, while sparing healthy tissue" (from the Penn Medicine website) I wanted the impact on my active lifestyle to be minimal-no giving up activities like going to the Philadelphia Orchestra, operas in Philadelphia & New York, shoveling snow, attending church, running errands, walking Abby and Papagana (my 2 dogs) and looking after my 20 year old cat, Sparky. Even more important was that the treatment needed to be over and done before my garden returned to life in the spring.
A 28 day high dose program was planned out by my oncology team. This was a once a day five days a week schedule. My first treatment was on February 26, and my last was today, April 4. Most days I arrived at the Radiation Oncology Unit at 8:30 AM and was back home by 10 AM. In addition to the Proton Therapy, to make my body less hospitable to the cancer in my prostate and less able to spread to nearby organs, I began a six month hormone therapy program using Lupron, injected once every three months.
Which brings us back to Lil' e. I recently finished reading Spoiler Alert: The Hero Dies by Michael Ausiello, whose husband, Kit, was diagnosed with a rare and extremely aggressive neuroendocrine cancer. Shortly after being diagnosed as stage four with a painful rectal tumor, Kit decided "that the best way to flip the bird right in cancer's ugly face was to give his XXL rectal tumor a name" which he decided would be "The Lurker" after a figurine he had picked up at Comic-Con two year before. As I was reading this book over the early days of my treatment, I wasn't sure I wanted to be on a first name basis with my cancer.
Laying on the table earlier this week waiting for my tumor to be aligned with the coordinates established to zero in on it, I imagined a conversation with this intruder. It felt good to warn it about living on borrowed time, and it felt even better to give it hell for entering my life. After living together for who knows how long, and aside from some numerical descriptions I had no idea what the thing actually looked like and I was anxiously awaiting its demise. I decided it did need a name, so that I could verbally assault it more effectively. As unseen and unfamiliar as it was, it reminded me of an enigma. And so, Lil' e it became.
This morning three of my closest friends accompanied Lil' e and I to our final appointment together. Papagana was excited to be back in her Pet Therapy Dog role, helping other patients destress as well as helping me. The staff were all glad to see her back. I left her with Christina and Rod as I took my final walk with Lil' e.  I changed into my hospital gown, drank 16 oz. of water and after ½ hour found myself climbing up onto the treatment platform for the final time. "All right you little bastard, this is it. Good Riddance!" The technicians had turned on the George Michael station on Pandora. As they aligned Lil'e with the beam meant to destroy him, the familiar strains of "Freedom" began to play. Part of the lyric goes:
All we have to see
Is that I don't belong to you
And you don't belong to me
Freedom
I won't let you down, freedom
I will not give you up, freedom
In the video George made for this song, each time the chorus came up, the word freedom was accompanied by an exploding juke box or an exploding guitar.
"Yeah. Take that, you little bastard" I thought, "I don't belong to you and you don't belong to me, so GTFOH!"
Then it was over. I changed and went back out to my dog and my friends. Grinning ear to ear, I received congratulations from my friends as well as some of my fellow patients who were waiting for their appointments. I posed for a couple of pictures and then I rang the heck out of that bell I had been hearing episodically during my visits. I said my thank yous and goodbyes to the staff and promised to be back next week with Papagana.
Back at the car, Christina gave me a gift she had brought back from Cape Cod, a beautiful blue flowered Hydrangea: Gary's favorite flower. She knew how anxious I was to get started in the garden. When I arrived home, I found another gift: A Gloriosa Lily tuber someone left without a note.
My heart is full of gratitude on this great day, for the myriad of ways I feel fortunate, loved and watched over. I am fortunate to live near a facility like Penn, and to have health insurance coverage that made this treatment possible. I feel God's love for me reflected in those who surround me in life; my neighbors and friends, my church and my animals. And I live with reminders of being watched over by loved ones no longer living here on this earth but ever present in my heart, especially the man I was blessed to have as my husband and partner for 43 years. Gary, I felt you with me all along the way.
***
Fred Martin Wolfe lives in Philadelphia with his two dogs and one cat. He is award winning container gardener and a retired renaissance man who worked as an architect, a butcher, and church administrator. He is a cancer survivor.
Learn more about prostate cancer on OncoLink.