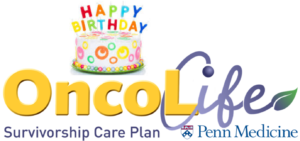 Here at OncoLink, we are celebrating the 11th birthday of our survivorship care plan tool called OncoLife. Survivorship care plans and survivorship care can help people with cancer – and their caregivers – with many challenges. There are over 17 million cancer survivors in the US alone and they face a range of post treatment issues. Concerns can range from the practical (bills, insurance) to psychological (fear of recurrence) to physical (pain, heart problems). And while every person's experience is unique, there are also a lot of similarities. Let's look at 11 common concerns faced by cancer survivors.
Get a survivorship care plan! This can serve to teach you about risks and concerns, help you communicate concerns with your healthcare team, help you find resources, and serve as a reference for your primary care provider. Create a plan for yourself using OncoLife, and share it with your care team.
The number one question I hear after treatment is, "what can I do to live healthier after cancer?" The answer: so much! Exercise, eating well, maintaining (or obtaining) a healthy weight, and not smoking top the list. These things not only help make you healthier, in many cases they can even reduce the risk of cancer recurrence. Learn more about these healthy changes.
When treatment is over, it is very common to feel lost, anxious or worried about not seeing your cancer treatment team as frequently. Find yourself in tears when you thought you'd be celebrating? You are not alone. Many patients talk about being "set adrift" after treatment is over. Try to enjoy your newfound free time away from the cancer center. Get back to those hobbies you weren't able to do, think about returning to work, take a post treatment vacation. Also, know that your care team is only a phone call away and they want to hear from you, especially if you are having concerning symptoms.
Treatment is over – back to the grind! Not so fast – you just went through months of treatment. You will not be back to pre-cancer energy next week (or next month!). Give yourself time – and permission to take time. Your friends, family and co-workers need to understand too – you can't just pick up where you left off.
Work is a big part of many of our lives. Sometimes we have to go back to work to keep our health insurance or to pay the bills – that's reality. But sometimes, the experience of cancer is the stimulus for a new path. Maybe a seize the day attitude pushes you to go to school or train for a career you always wanted. Maybe it makes you want a career that helps you give back. Follow those dreams!
Have you been tossing those medical bills in a pile on the dining room table for months now? The financial crisis cancer can bring about is all too real. Now's the time to tackle these things – talk with your social worker if these bills are too much to handle to find out what resources are available. Ask a helpful friend to help you sort through bills.
Keep your health insurance!! This is essential. Even if you are concerned about your ability to return to work, there are options available to help you maintain your coverage. Talk with your social worker about the many rules surrounding health insurance, COBRA, disability and how to make sure you have coverage.
Remember that primary care provider you once knew? Now is the time to get reacquainted! During active cancer treatment, other health concerns, like blood pressure, cholesterol, and diabetes screening, can get put on the back burner. Visit your PCP, get a check up, and be on their radar in case you need them. Share your treatment information and survivorship care plan with your PCP so they know about the treatments you have received and how those may interact with general health concerns.
The fear of recurrence is something most any cancer survivor experiences at one time (or all the time). I think of it as an unwanted passenger in my car – over time, it moves to the back seat. But a new ache or pain can catapult it to the front really quickly. For many, that fear is never gone completely, but you learn how to manage And if you find that it is managing you, ask for help- your social worker can help you find a counselor or support group to fit your needs.
Relationships after cancer can be challenging. This can include all types of relationships- dating a new person, relationships with family and friends. Want to start dating? Do a little reading and thinking through your approach. When do you tell someone about your diagnosis? There's lots of advice out there – this article from Cure magazine is a nice place to start. Relationships with friends may change – cancer is a test of a person's commitment to friendship for sure. You may find that some relationships become stronger and some become strained. You may also find new friends along the journey.
Make meaning of this terrible experience. Sounds hokey- but you have been through something that often changes the way you look at life. Turn those lemons into lemonade by giving back. Participate in a walk, volunteer at your cancer center, or join a buddy program. Many people take their own expertise and use it to pay it forward. Are you a yoga teacher? Start a class for cancer survivors. Are you a hairdresser? Offer to style wigs at no cost for survivors. Now, it is important to note that many folks can't do this right away. They need some time away from the experience – but when you are ready, there is so many ways to help the next person in your shoes.
What would you add to this list?