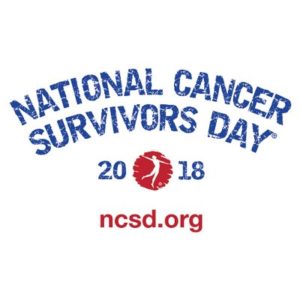 Every year, on the first Sunday in June, we recognize National Cancer Survivors Day (NCSD). It's a day to celebrate the strength and resilience of survivors and caregivers and to provide inspiration to those facing a new diagnosis. But this day can be a reminder for many of an experience that changed life as they knew it. It can be a reminder of something one tries to forget or put behind them. It can be a bittersweet reminder of a loved one we've lost. In other words, it's not all balloons and confetti.
The terms "survivor" and "survivorship" have different meanings for different people. One widely used definition of a survivor is any person who has been diagnosed with cancer, whether or not they have completed treatment. Other definitions limit survivors to those who have completed treatment and are in remission. This leaves out the many people living with a chronic cancer – some receiving active treatment for many years. Some organizations also describe the loved ones of a person with cancer as a survivor (if you've been a caregiver, you know this is fitting!).
Just the term "survivor" brings about many different reactions. For some, it is a badge of honor- rightfully so! You survived a traumatic, emotional, life changing experience and came out the other side stronger and wiser. But for some, it is a secret – by choice or by necessity – maybe to maintain employment or just because it's nobody's business. There are many "survivors" living with chronic cancers – diseases that will never be cured but can be managed with anti-cancer medication(s) for many years. How do they identify themselves? And then there's the group like me, treated with just a surgery. We meet the definition, but hardly feel worthy of the label.
NCSD may be just one day, but that is hardly enough to recognize the many treatments survivors have endured, the daily struggles with late effects, employment discrimination, emotional distress, financial recovery and more. I encourage you to remember survivors every day – not with a celebration, but by remembering that it isn't so easy to put the experience behind them – if they even want to. Remember they may still need support when the "fire" of treatment is over. And remember that not everyone wants to wear the survivor badge on their sleeve. Take us for who we are and who we want to be known as.
We asked our wonderful bloggers to write about survivorship on their terms – and as I said above, it meant different things to each of them. We hope you enjoy this week's blogs and the different perspectives on this complicated label.
---
Carolyn Vachani is an oncology advanced practice nurse and the Managing Editor at OncoLink. She has worked in many areas of oncology including BMT, clinical research, radiation therapy and staff development. She serves as the project leader in the development and maintenance of the OncoLife Survivorship Care Plan and has a strong interest in oncology survivorship care. She enjoys discussing just about any cancer topic, as well as gardening, cooking and, of course, her sons.