This past weekend my older brother, Jim, graduated from medical school. And while this is primarily a "nursing" blog, the pride, insight, and motivation I walked away with from his graduation ceremony deserves to be shared. Aside from being a proud little sister, I stood in awe at these brilliant minds processing before their family and friends, knowing full well just how hard they have worked to make it to this point. My brother had become more than a sibling as he earned the Doctor of Osteopath credentials—he was now a colleague in healthcare.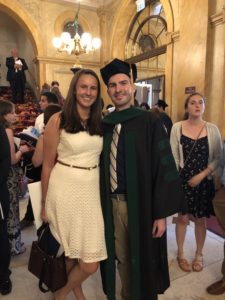 I remember when I first applied to nursing school—scared, hesitant, unsure of my abilities in math and science—Jimmy was right there with me as we toured the school. At that time, he was a chemist for the city of Philadelphia. We peeked into the labs and classrooms and he said to me, "Maybe I'll apply, too" with a smirk. I knew him well enough to know he was half serious. Just as I was drawn to healthcare with an urge to ease the physical and mental illnesses of my patients, he felt that tug, too.
Right around the time I graduated nursing school, Jim started dropping hints about medical school. It's not an easy thing, to leave a "safe" job and embark on such a difficult and, I'll say it, expensive, journey. But that tug got the best of him, just as it did for me with nursing. He had his pick of schools, but ultimately decided an Osteopathic program was most suited for his vision and approach to healthcare. Having worked with and seen many DO's in practice, I could not be prouder. Here he was, combining the things I love about nursing—compassion, body and mind integration, holistic care—with the passion and excitement he has for medicine.
It's a wonderful thing when you have the opportunity to follow your passion. Nursing has allowed me to meet so many beautiful people, many of whom have truly touched my life. During Jim's graduation ceremony, the school president spoke about the human aspect of medicine, and pleaded with them that, despite how easy it is to lose sight of, to always be present and compassionate. I found his words moving and applicable to all aspects of life. When you treat people with compassion, you are showing them that you are present, you are listening, and that you care.
It's no coincidence to me that we "practice" compassion, much like we "practice" nursing and medicine. Knowing that so many go into this field with the hopes of helping others and practicing much needed compassion paints the world in a bright, positive light. So to all of my fellow nurses, doctors, and healthcare professionals who practice compassion daily, I thank you, and I am so proud to work alongside of you!
---
Marisa worked at the Hospital of the University of Pennsylvania on a medical-oncology unit for 4.5 years. She is currently an outpatient infusion nurse in Cherry Hill, NJ. She also has her Bachelor's degree in English Literature from the University of Scranton, where she played basketball and made many lifelong friends. Originally from Philadelphia, she now resides in Collingswood, NJ. She spends her free time either in Cape May, skiing in the Poconos, or spending time with her family and friends- including her dog Peanut.