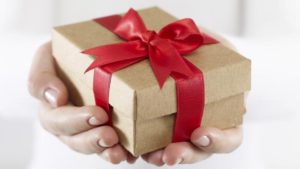 I was watching the news the other day when two stories of tragedy caught my attention. The deaths of two people – one by gun violence, one a car accident – got me thinking about how the lives of these people's families were changed in an instant. They didn't have a chance to say good bye or I love you one last time. It reminded me of the small, but often ignored, "gift" that comes with a terminal cancer diagnosis. Time.
Now I know for many it is quite difficult to see any gift in a disease that causes such suffering. But, finding hope in a less than hopeful situation is what oncology nurses do best. A cancer diagnosis often allows for weeks, months or years to prepare for one's death. So much time to share memories, wishes and hopes.
Sadly, in our death-defying and denying culture, we don't often take advantage of this gift. We don't want to talk about the possibility of death. We avoid it at all costs! Oncology providers too often don't want to give a bad prognosis, "give up" on active treatment, or "take away someone's hope." But I would argue that taking away this gift of time is taking away hope.
Given this gift of time, a person can leave a legacy for their loved ones through written or video memories. They can share their dreams for those around them. They can share their wishes for what they want done when they can no longer care for themselves, or when they die. They can avoid leaving unfinished business.
They can see the value in taking time away from the many doctor's appointments and treatments to enjoy what time they have left. A friend and his wife took an African safari – a lifelong dream of hers – during the last weeks of her life. The memories and pictures from that trip bring him such joy. My cousin longed to put her feet in the sand on her favorite beach just an hour from home and we made sure it happened. Or perhaps it is seeing the birth of a grandchild, the wedding of a loved one, or your child graduate. These events bring joy for the patient and create memories for their loved ones that cancer cannot take away.
I'm not trying to sugar coat things, just finding some ray of sunshine during a dark time. The journey isn't easy- it's often filled with sadness, pain and suffering, and a lot of hard work for the caregivers. But in the end, that gift of time can help provide peace and acceptance when used well. I just wish more people could see the benefit and take advantage of the gift in this diagnosis.
---
Carolyn Vachani is an oncology advanced practice nurse and the Managing Editor at OncoLink. She has worked in many areas of oncology including BMT, clinical research, radiation therapy and staff development. She serves as the project leader in the development and maintenance of the OncoLife Survivorship Care Plan and has a strong interest in oncology survivorship care. She enjoys discussing just about any cancer topic, as well as gardening, cooking and, of course, her sons.