Of course! Often, when we talk about skin care, we focus on the summer months and protecting ourselves from the sun. It is important to keep in mind that not only is sunscreen essential year round, but we must also protect our skin from the cold weather elements.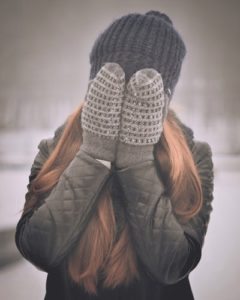 In the winter, the humidity level is lower than normal. This lack of humidity makes the air drier and therefore your skin is drier. This can also happen in your home if you are running your heat. The wind can damage the skin by causing wind burn. Treatment for cancer may have already caused dry, itchy skin. The drier your skin becomes the more likely it is to become cracked and possibly infected. You don't need that happening!
There are a number of ways you can protect your skin during the winter months:
Keep covered. If you expect to be out in cold weather protect your skin with gloves, hat, scarf, warm coat and warm socks that fit properly. Try to wear warm but breathable fabrics.
Keep your skin moisturized. This includes your lips and mouth as well. Try to use products free of scents, perfumes and dyes as these can aggravate your skin even more. Don't forget lip balm to keep your lips moisturized. Sipping on water can keep your mouth moisturized. Apply lip balm before leaving the house to protect your lips from the elements.
When bathing and showering do not use overly hot water. This will lessen the drying effect water has on your skin.
Using a humidifier in your home can introduce moisture into the air that is lost during the winter months.
Continue to use sunscreen and protect yourself from the sun even in the winter months.
Just because the weather is changing doesn't mean you shouldn't leave your house. Moisturize, bundle up and go on your way!
---
Karen practiced as an acute care nurse on a medical-oncology unit at the Hospital of the University of Pennsylvania for several years. She joined OncoLink as an Educational Content Specialist in 2014. In her blog she shares stories about her personal experiences with cancer, both on the floor and in her personal life.