This blog is part of the series "Demystifying Mindfulness." I'm hoping I can help us all understand a little bit more about the practice of mindfulness, how it can be helpful and how we can integrate it into our lives.
---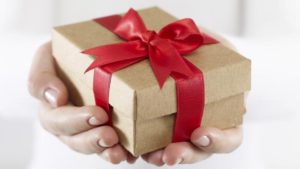 I cannot believe we are in December already. The year really has flown by. I've been busy celebrating the holidays with family and friends—which got me to thinking about the importance of being mindful during the holidays. In all the hustle and bustle, it's really easy to get caught up in the obligation of going to another party, buying another gift or sending another card. But I think it's important to take some time to remember the holidays are also about our memories and traditions we hold dear.
A few weeks ago, I was attending a continuing education event and we were asked, while introducing ourselves, to share what was our most memorable holiday gift we had received. I loved this exercise. It really got me thinking about years past and time spent with my family. And where I landed was when I was five years old. My parents and a family friend stayed up all night assembling a play kitchen for me and my sister. They led us down the basement stairs and our eyes lit up with glee. Not long after I was making my parents a "meal" and cultivating the chef I'd become one day.
As this memory came to mind, I smiled. I thought of my parents and my sister…of growing up in our little house in Niagara Falls, NY. Of so many hours spent in that basement playing with our kitchen. Of the happiness and silliness and creativity and imagination that was cultivated by my parents with this gift. And, let's be honest, they were pretty great to stay up all night and put it together for us. We were truly surprised and overwhelmed. It was magic.
What's the most memorable holiday gift you have received?
Last weekend, I hosted my annual holiday party-it was the 10thanniversary of the party. As my friends gathered at my house, with their kids all growing up WAY to fast, I was so thrilled to have everyone who means so much to me gathered at my home. We ate, drank and were merry. We reminisced about parties of the past, of how we all came to know each other, of my dog Finn eating the mini hotdogs out of one of the kid's hands. In those few hours, we were free of stress, of anxiety and worry. We were present with each other.
Sometimes, the memories and traditions are hard. They remind us of different (better?) times or of those who are no longer with us. Our emotions may get the best of us in these circumstances. Mindfulness can help us here as well. Reflection and remembrance help to cultivate our resilience and encourage us to make new memories, traditions and meaning in our lives.
What holiday tradition are you most looking forward to this year?
Coping with illness can throw a wrench into holiday celebrations. Practicing mindfulness: being present, taking time to enjoy activities, meditating or maybe just sitting home by the tree or the menorah can help us navigate the stress of illness. Take time. Smell the balsam. Catch a snowflake on your tongue. Make a snow angel. Eat the cookies/latkes. Make the resolutions. Make memories. It all means so much.
---
Christina is a clinical oncology social worker who joined the OncoLink team in 2014. Christina blogs about resources available to the cancer community, as well as general information about coping with cancer practically, emotionally, and spiritually. Christina is an avid knitter and spends a great deal of time sharing pictures and stories about her three beagles, Linus, Maggie and Huckleberry. She also loves to travel, cook and is an avid Philly sports fan.