Each patient's survival story is different. A diagnosis of cancer can quickly consume your life. Between appointments with your providers, imaging tests, treatments, calling your insurance company, trying to figure out employment and financial issues, cancer can easily take up most of your days, weeks and months. I walked this journey with my aunt all while knowing that her cancer would lead to her death. But she wanted to live, and she did for 7 months longer than her provider believed she would. Each patient's survival story is different, and I want to share some of her survival story with you.
When Ange was diagnosed with cancer it had already moved from her lungs to her pancreas, liver, brain and bones. She was told her cancer was aggressive but treatable. She decided to start treatment with chemotherapy. I sat next to my aunt's bed in the hospital during her first infusions and she wanted to be distracted. I don't like the term bucket list, so let's call it her survival list. We talked a lot about her survival list and what she wanted to do with the time she had left. She had plans and cancer was not about to stop her.
The first thing Ange wanted to do was go down the shore. She had grown up spending summers at the shore in New Jersey and she wanted to hear the ocean waves crashing, walk in the sand and feel the sun on her skin. I spent some time trying to conceive how to get her onto the beach. She was walking short distances with a walker, on continuous oxygen, and would soon lose her hair. We planned to try to go down once she was discharged from the hospital and feeling more steady on her feet. A very generous soul offered her beach home to us and Ange was determined. During the days before we planned to go to the beach Ange was practicing walking without assistance, had ditched oxygen and had bought quite a few large brimmed hats. She was ready. She loved every moment on the beach that weekend, including when we walked down to the water and the relentless seagulls stole our chips.
Another part of Ange's survival plan was eating. She had spent a majority of her life dieting and she decided that would no longer be a priority for her. During those first few months of treatment she craved fast food cheeseburgers, but one specifically. We would pick it up on the way home from the cancer center and she would put it out on a plate and devour it. Also, ice cream. Her freezer was often half food that family had made for her and the other half was ice cream. She loved tomatoes, but no seeds. When I think about how many tomatoes I seeded I can't help but smile. She loved going out to eat and ordering steak. On the days when her stomach could tolerate it, she ate what she wanted, in moderation, and she enjoyed it.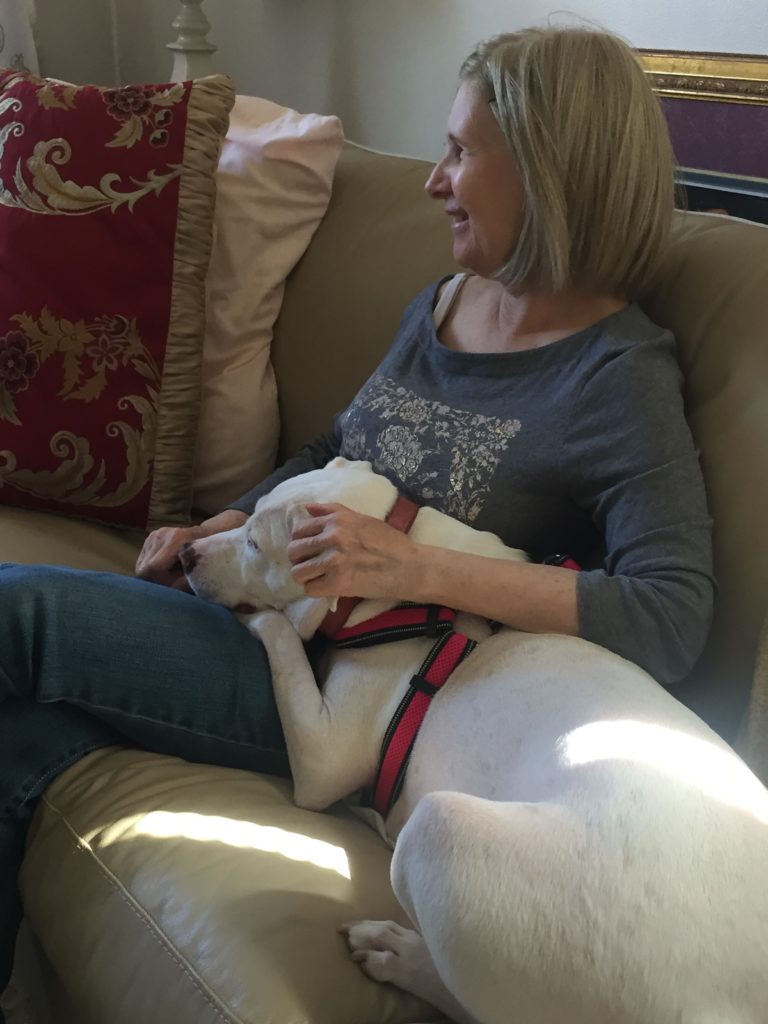 Ange had always wanted a dog. This was tough. She lived by herself and she wanted company. She was adamant that she wanted a dog and that she would be able to take care of it. I had no doubt that on the good days she would take amazing care of a dog. This was a woman who adopted and rehabilitated a horse that had been abused, I knew she could handle a dog, we just had to wait for the right time and to find the right dog. On a beautiful October morning we went to the local animal shelter and Ange left with a white, mixed breed bundle of love named Bella. I truly believe the long walks and Bella's love kept my aunt alive longer. Bella is now living with Ange's sister, spreading love everywhere she goes.
Ange did her best to live her life while at the same time getting treatment. She received a variety of treatments over 15 months and once they stopped having any effect on the cancer, she needed to make some decisions. In the midst of trying to decide if it was time to no longer treat her cancer, Ange had an addition to her survival plan, and that was to not be admitted to the hospital. During those last 2 months she received hospice care at home, where she died with Bella at her side. During the 17 months that she lived as a cancer survivor Ange made the best of the cards that she was dealt. I was, and continue to be proud of how she spent her days and months surviving cancer and hope that she was able to inspire others.
---
Karen practiced as an acute care nurse on a medical-oncology unit at the Hospital of the University of Pennsylvania for several years. She joined OncoLink as an Educational Content Specialist in 2014. In her blog she shares stories about her personal experiences with cancer, both on the floor and in her personal life.