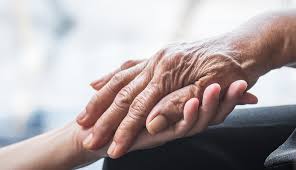 Hospice is a unique service for patients who have chosen to no longer receive treatment to actively treat their disease. This does not mean they are no longer receiving any medical services. Hospice health care providers will help manage side effects affecting you through the use of medications and other modalities. Hospice providers will help you through the emotional and psychosocial aspects of your care as well.
When receiving hospice care at home, there are some things that you and your loved ones need to think about to ensure your safety. The following are some things to think about and steps to take while being cared for by hospice providers at home.
Trip and Fall Hazards/Shower and Bathroom. A provider from hospice may do a safety assessment of your home. They will check your home for situations that could be unsafe for you such as tripping hazards, health hazards, smoke detectors that do not work, and so on. You may be given ways to make your home safer. If you need them, you could be given a shower chair or stool to help you bathe. If you feel unsafe in any part of your home you can mention this to the provider and they will help you address those needs. If you are using a hospital bed in your home it is important to tuck any electrical cords under the bed and to plug them into a safe outlet.
Oxygen/Equipment/Supplies. You may need oxygen, medical supplies such as wound care bandages and maybe a cane or walker. You want to ensure that you follow the directions for having oxygen in your home. Often you will be given a sign to post that there are oxygen tanks in your home. A few pointers: keep canisters away from open flames such as lighters or stoves, keep them stored upright and turn them off when not in use. Make sure that you have enough medical supplies and that you store them in an easily accessible place in your home. A cane or walker should be fitted to your size and a provider will teach you how to use it. Ensure that you always have them close by. If you are using a hospital bed in your home it is important to tuck any electrical cords under the bed and to plug them into a safe outlet.
Medication. You may be started on new medications while also stopping taking others. Your provider will review your medications with you and your loved ones. A pillbox can be helpful with medications taken at a specific time each day. You may also find it helpful to use a chart to track the medications you take as needed. Find a system and do what works for you. Another aspect of medication is that often you will be given a "kit" of emergency or comfort medications. The kit will contain a small quantity of medications that can be used to treat side effects such as shortness of breath, increased secretions, nausea and pain. Your provider will give you instructions about when to use these medications and if/when you should call the hospice service when using them.  It is important that you keep the kit in a place that is not accessible to children. Some of the medications in the kit can be habit forming so you will want to keep that in mind when deciding where to store your kit. Your hospice team will monitor what has been used from the kit and replenish it if needed.
911. One of the first instincts for most when they see someone who needs help is to call 911. This is not always the case when you are on hospice. The nurse or provider coming into your home will talk about when it is and is not appropriate to call 911. An example of a time that you would not call 911 is if the person on hospice dies. Rather than call 911, you would call the contact number given to you by hospice services.
You will be provided a phone number to reach the hospice service at any time of day or night. Program it into your phone, keep it posted by your home phone or on the fridge. This way, if you are ever in need of help, there is no need to scramble to find the phone number. Hospice care providers' goal is to maintain your comfort while keeping you safe. If you ever have a question about your safety your hospice provider will be able to help you.
---
Karen practiced as an acute care nurse on a medical-oncology unit at the Hospital of the University of Pennsylvania for several years. She joined OncoLink as an Educational Content Specialist in 2014. In her blog she shares stories about her personal experiences with cancer, both on the floor and in her personal life