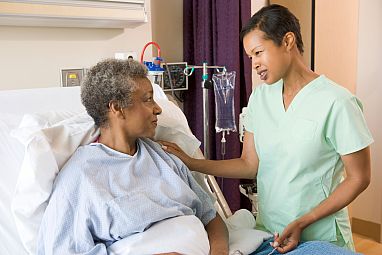 There was a time when patients were expected to do what the doctor told them without asking many questions – or even understanding their illness. Fortunately, this is not the norm anymore. Healthcare providers have learned that patients who understand their illness and treatment are more likely to stick with their treatments, understand when to report side effects and often make healthy behavior changes. You become an active participant in your care and recovery. And because of this, you are safer.
You may have read the previous blog about education for providers. As you can imagine, this is a two way street. If you are not interested in learning about your disease or treatment, your provider's efforts aren't going to go too far. While the responsibility for education is on your provider, there are some things you can do to be ready to receive this information and process it. It may seem like a chore you don't need when you are already stressed about your diagnosis. Rest assured that learning even a little can help ease your anxiety and help you have some control in an out of control situation.
How to start learning about your illness
The language of medicine and oncology may be totally new to you, but with a little effort, before you know it you will be speaking the lingo.
Start by learning the basics about your cancer – OncoLink is a great place to start. This list of a few other reliable general cancer information and support websites can also be a good starting point. Ask your healthcare providers for informational handouts or referrals to the websites they like.
If you find something on the internet, write it down, save the web address or print the page to bring to your appointment with your provider, rather than saying, "I read about this treatment on the internet." Your providers want to help you navigate all the information you are finding and this can help us guide you.
Considering a new treatment? Ask your provider for information about the treatment, how it works and what are the potential side effects? What are the alternatives and their risks?
Take some time to absorb this information and weigh your options. Consider a second opinion to learn even more. Cancer feels like an emergency, but in most cases you can take a little time to find the best treatment for you.
Once you decide on a treatment, ask for more information about the treatment. What should you do if you experience any of the side effects? What if it happens at night or on a weekend? Is there anything you can do to reduce the chance of a side effect or make it less severe?
Will your treatments affect your blood counts? Are they expected to drop and put you at risk for infection? What precautions should you take?
Is there anything you should avoid doing while receiving treatment? Make sure your team knows your job, any hobbies and who lives with you (people and pets) as all of these can be important to keeping you safe!
Things to consider to help you learn best
While your healthcare providers do their best to give you the information you need, you know your needs best. Don't ever be afraid to ask a question – trust me, they have heard them all! Some other things to consider:
Is English not your first language? Ask for help from an interpreter. All cancer centers have this available either in person or by phone.
If you are a family member who speaks English, you do not need to be the interpreter! Most health care facilities don't allow family members to act as interpreters. In fact, it is better to have a certified medical interpreter to avoid errors. Focus on being a spouse, a child, or a friend—not an interpreter.
Are you ready to learn? Do you remember anything your doctor told you after the words "you have cancer?" Probably not much. The same could be said if you are in pain, sleep deprived or worried about something else that has your attention. It's also okay to say, "that's enough for today," or ask a family member or friend to be the point of contact for this information.
Do you have a particular question or concern that has you distracted? Sometimes getting your main concern answered first can help you better focus on whatever else your provider has to say.
It's also important to remember your mental well-being. This can be affected by the anxiety and stress of cancer and its treatment. But practical things can have a major effect on this as well – these can include getting to treatment, paying for treatment, working and housing concerns. Ask to talk to a social worker at your treatment center to help you work through both emotional and practical concerns.
Taking the time to learn about your disease and treatment may seem like an added task. However, many patients find that their anxiety is reduced when they understand the disease and its treatment and what to expect. They know when to call the office or how to manage a side effect. You don't need to go to med school or read any scientific papers – a little information can go a long way in helping you stay safe!
---
About the author: Carolyn Vachani is an oncology advanced practice nurse and the Managing Editor at OncoLink. She has worked in many areas of oncology including BMT, clinical research, radiation therapy and staff development. She serves as the project leader in the development and maintenance of the OncoLife Survivorship Care Plan and has a strong interest in oncology survivorship care. She enjoys discussing just about any cancer topic, as well as gardening, cooking and, of course, her sons.