October is National Physical Therapy Month. Physical therapy can be a great benefit to patients, especially those with cancer. Christina Lombardi, PT, DPT, shares answers to some questions about physical therapy in this guest blog.
Who Are Physical Therapists?
A physical therapist, also called a PT, is a healthcare provider that diagnoses and treats people who have medical issues that limit their ability to perform activities of daily living. Activities of daily living are any actions you do each day, like walking, dressing yourself and so on. A physical therapist assistant, also called a PTA, works with physical therapists to provide services to patients under the direction and supervision of a PT. PTs and PTAs are experts on movement. They use this expertise to help patients feel and move better.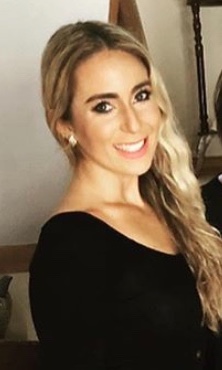 What Do Physical Therapists Do?
PTs use their knowledge to create a plan to help a person improve range of motion, strength, and balance as well as reduce symptoms, restore and maintain function, and prevent further disability and injury. They create this plan after they have determined your diagnosis and after they have evaluated how you are doing currently. This plan, called a plan of care, is individualized to your specific needs and issues. This plan may change throughout the course of treatment depending on how you are doing.
Where Do Physical Therapist Work?
Physical therapists provide care for individuals in a variety of settings including hospitals, private practices, outpatient clinics, home, schools, sports and fitness facilities, work settings, and skilled nursing facilities.
What Are the Educational Requirements of Physical Therapist?
As of 2016, all physical therapists earn a Doctor of Physical Therapy (DPT) degree from an accredited physical therapist educational program. They also need to pass a national licensure exam after they graduate. Physical therapy programs include classes on a variety of different topics, such as biology, anatomy and physiology, cellular histology, biomechanics, kinesiology, pathology, and pharmacology.
What Can I Expect from a Physical Therapy Plan of Care?
Patients need a prescription to be seen by a PT. You can talk to your provider about what issues you are having and once the prescription is written, you can call a physical therapy office to set up your evaluation. During your evaluation, the PT will ask you questions about the issues you are having and will ask you to perform specific movements and exercises. They may be looking at your posture, strength, range of motion (including both muscle flexibility and joint mobility), balance, neurological, cardiac, and pulmonary function, and pain. They may test your functional mobility by asking you to go from a sitting to a standing position, walk, go up and down steps, roll in bed, and get out of bed.
After your evaluation is complete, the PT will determine if physical therapy could be helpful, and if it is, how often you should be seen. At this appointment, and any appointments you have following, you will be given exercises to optimize movement, reduce further deconditioning, prevent injury, and improve overall quality of life.
Benefits Of Physical Therapy
According to American Physical Therapy Association, the vision of Physical Therapy is "Transforming society by optimizing movement to improve the human experience." Physical therapy can help improve your overall quality of life by improving your ability to move, reducing your symptoms, and creating healthy lifestyle changes. Physical therapy can help by improving range of motion, joint mobility, strength, power, agility, speed, proprioception, and balance. Physical therapy can help you recover from an injury, trauma, paralysis, or stroke, and can also help manage side effects of certain illnesses.
Physical therapy and physical activity have been shown to improve cognitive abilities (how well you think), energy, mental health, and mood. Specifically, physical activity has been proven to help improve a cancer survivors' quality of life, reduce cancer related fatigue, and reduce cancer recurrence or progression, and improve prognosis. There is also evidence that higher levels of physical activity are linked to lower risks of several cancers such as colon, breast, and endometrial cancer.
If you think that you could benefit from an appointment with a PT, you should reach out to your provider for a prescription. Check in with your insurance company about which therapists/offices are covered by your insurance and what your copay will be. Dress comfortably for your first visit and good luck on your path to better physical health!
---
Christina graduated in 2012 with a Bachelor's degree in Biology/Secondary Education from West Chester University. She continued her studies at Temple University in Physical Therapy, graduating with a Doctorate of Physical Therapy in May 2015. Christina began her career in outpatient physical therapy and has worked per diem in both the acute and rehabilitation care settings. She treats a variety of orthopedic and neurological diagnoses in her current role as a staff therapist for Good Shepherd Penn Partners. Recently, Christina developed an interest in Oncology. Last year, Christina's dad was diagnosed with prostate cancer and her cousin with ovarian cancer. In addition, within the past year, a few of Christina's friends have also been diagnosed with cancer. Because of her love for family and friends and her passion for physical activity and wellness, she realized that she could help touch so many lives. Christina joined the Oncology Section of American Physical Therapy Association in May 2019 and is beginning to take continue education courses to develop her clinical knowledge and expertise. She instructs indoor cycle and has her Level 1 CrossFit Certification. She enjoys various forms of exercise and other health and wellness related activities and topics.