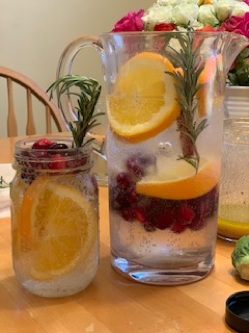 It is a good idea to try to eat fruits that are in season. Infused water is a great way to stay hydrated on cooler snowy days while incorporating fruits from the season. Cranberries and citrus are in season so why not use them? In a pitcher or glass combine cranberries, orange slices, ice cubes and water. Sparkling water can be used if you want some fizz. Garnish with rosemary.
This cranberry smoothie recipe uses a mix of frozen and fresh fruit, and of course some seasonal fruits!
Cranberry Smoothie
Ingredients
◦ 1 cup milk (Options: Skim, 2%, Whole, Plant-Based)
◦ 1 Banana (fresh or frozen)
◦ ½ cup mixed berries (fresh or frozen)
◦ ½ cup fresh cranberries
Directions: Add ingredients to a blender and blend until smooth.
You can also change up some of the ingredients to your preferences or dietary needs.
◦ Add Calories: Use 2% or whole milk.
◦ Add Creaminess: Use a frozen banana or add silken tofu.
◦ Add Protein: (1) scoop protein powder or some Greek yogurt.
◦ Dairy-free: Swap milk for a plant-based alternative.
◦ Sensitive to cold: Use fresh fruits instead of frozen.
---
Audrey Caspar-Clark MS, RD, LDN, Doris Piccinin, MS, RD, CDE, CSO, LDN, Carly Roop, RD, CSO, MA, LDN, and Caroline Meehan, RDN, CSOWM, LDN, CDCES are the registered dietitians at the Abramson Cancer Center at Perelman Center for Advanced Medicine who specialize in cancer nutrition and provide information based on sound nutritional therapies to support patients throughout their cancer treatment.