Every year on the last day of February, the world recognizes rare diseases—a day now known as Rare Disease Day. Rare diseases affect approximately 25 million to 30 million people in the United States each year. The purpose of Rare Disease Day is to educate the public and raise awareness among decision-makers about the impact of rare diseases on patients' lives. Decision-makers include those who make strides advancing critical research: policymakers, industry representatives, health professionals, advocates, and more. Through their support, more action can be taken to combat rare diseases.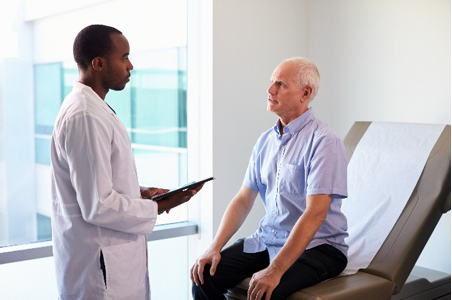 According to the National Cancer Institute (NCI), about one-quarter of all cancer deaths each year are caused by rare cancers. And, in fact, most types of cancer are considered rare. Unfortunately, rare cancers are more challenging to treat than common cancers—and they are more difficult to research because of the limited number of patients. Other issues related to rare cancers include lack of knowledge among physicians about rare cancers, and difficulty finding experts who can answer questions.
Despite these obstacles, researchers do find ways to study rare cancers and develop better prevention strategies and treatments. For example, in June 2020 the results of the first randomized clinical trial for inoperable anal cancer determined the best chemotherapy regimen for patients. Before the trial, the usual approach for these patients was palliative care or care that focuses on providing relief from pain and other symptoms. Now, researchers are building on their findings in a phase III clinical trial that will add an immunotherapy drug to chemotherapy to hopefully improve patient care even further.
A clinical trial may be a good choice for someone diagnosed with a rare cancer, though patients should always discuss treatment options with their doctor first. Information about cancer clinical trials is available in OncoLink's Clinical Trials section, which also includes a helpful clinical trial matching service. Examples of rare cancer clinical trials that are currently available include:
Neuroendocrine tumors (NETs)
Penile cancer
Mantle cell lymphoma
In the United States, NETs occur in about 12,000 people each year; these tumors can appear in any part of the body, but often develop in the lungs, gastrointestinal tract, or pancreas. Mantle cell lymphoma, a rare type of non-Hodgkin lymphoma, affects about 4,200 people yearly while penile cancer affects just 2,200 people each year. In order to be considered "rare," a cancer can only occur in 40,000 people or fewer per year in the US. However, when taken together, rare cancers are actually more common than breast, colon, lung, or prostate cancer. And, people facing rare cancers are just as in need of better prevention, treatments, and cures as those facing common cancers.
For rare cancer resources or support, visit NORD, the National Cancer Institute or Cancer.Net. Consider joining the movement on February 28 by sharing your experience with rare diseases on social media using the hashtag #RareDiseaseDay. As awareness of rare diseases—like rare cancer—increases, so do improvements in patient care and outcomes.
---
Katie Heller, MA, is a guest writer who works in marketing and clinical education at ECOG-ACRIN Cancer Research Group. Previously, she held roles at the American Society of Clinical Oncology and their foundation, Conquer Cancer. She has nearly a decade of experience in oncology and health care communications. Katie received a Bachelor's Degree in English from Loyola University Maryland and a Master's Degree in Media, Culture, and Communication from New York University.