May is Mental Health Awareness Month. Over the next few weeks, OncoLink will feature blogs about common mental health challenges faced by cancer patients, caregivers, and healthcare professionals.
Please remember, if you are in crisis, help is available.
National Suicide Prevention Lifeline 800-273-8255
National Alliance on Mental Health (NAMI) Helpline 800-950-6264
---
A caregiver is someone who provides help to individuals in need, whether it is a sick spouse or partner, a loved one with a disability, or an aging relative. Regularly caring for a loved one with health issues or disabilities can be demanding and stressful. It can also become a financial burden. It is important as a caregiver to recognize the signs of mental health challenges that may arise when caring for your loved one.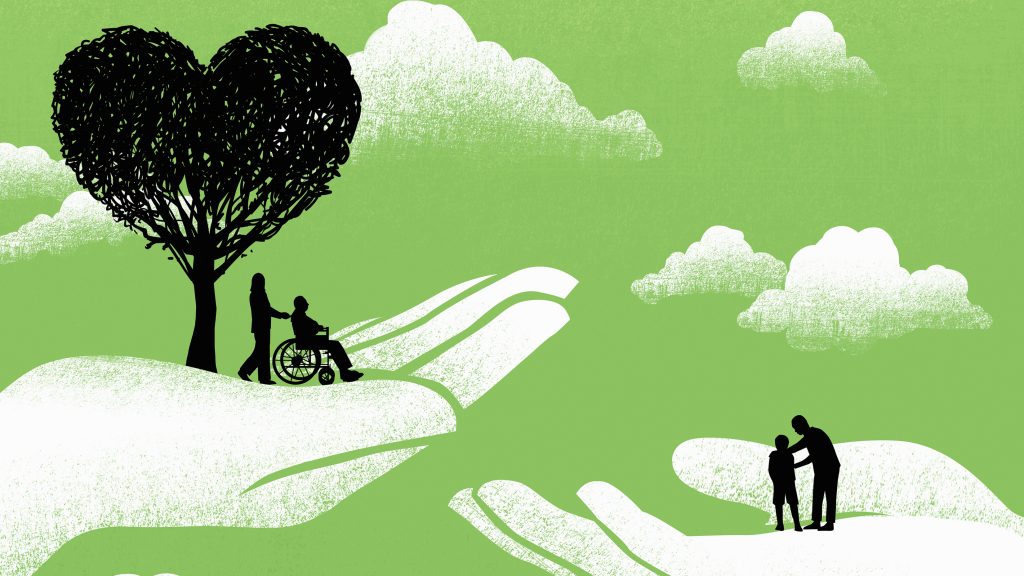 Caregiving is rewarding, but it is only natural at some point to have feelings of stress, anger, frustration, sadness, or exhaustion. Some signs to watch for that can be indications that you are becoming emotionally, mentally, financially, or physically stressed are:
Getting too much or not enough sleep.
Weight loss or gain.
Easily becoming irritated or angry.
Feeling sad.
Feeling constantly worried or overwhelmed.
Education and support programs such as caregiving groups can offer assistance that may benefit your mental health. They can also help you identify signs of mental health challenges that may arise. Caregivers can benefit from online or in-person social support. Check out these resources:
In addition to online or in-person social support, there are additional resources available to help reduce the financial burden of caregiving. Some of these resources include:
VA Benefits for Long-Term Care for veterans and family members may offer financial assistance to a family caregiver or provide resource for in-home assistance.
As a caregiver, it is easy to lose sight of your own physical and mental well-being if you are focused on taking care of a loved one. Not getting enough sleep, physical activity and eating unhealthily can increase your risk of medical health challenges. You must remember that if you don't take care of yourself, you won't be able to take care of anyone else. Don't be afraid to ask for help.
---
Courtney is a Radiation Therapist at Penn Medicine in the Department of Radiation Oncology. She completed her Bachelor's Degree in Radiation Therapy from Indiana University, and received her Master's Degree in Public Health with concentrations in Health Management and Policy and Health Education and Promotion from Benedictine University. She has fourteen years of experience in radiation therapy, which includes an expertise in proton therapy and pediatrics. Courtney has worked with OncoLink since 2014, but joined part-time in 2020 as a Global Education Coordinator and is currently developing virtual reality training modules that have been used to train radiation therapists both domestically and internationally.