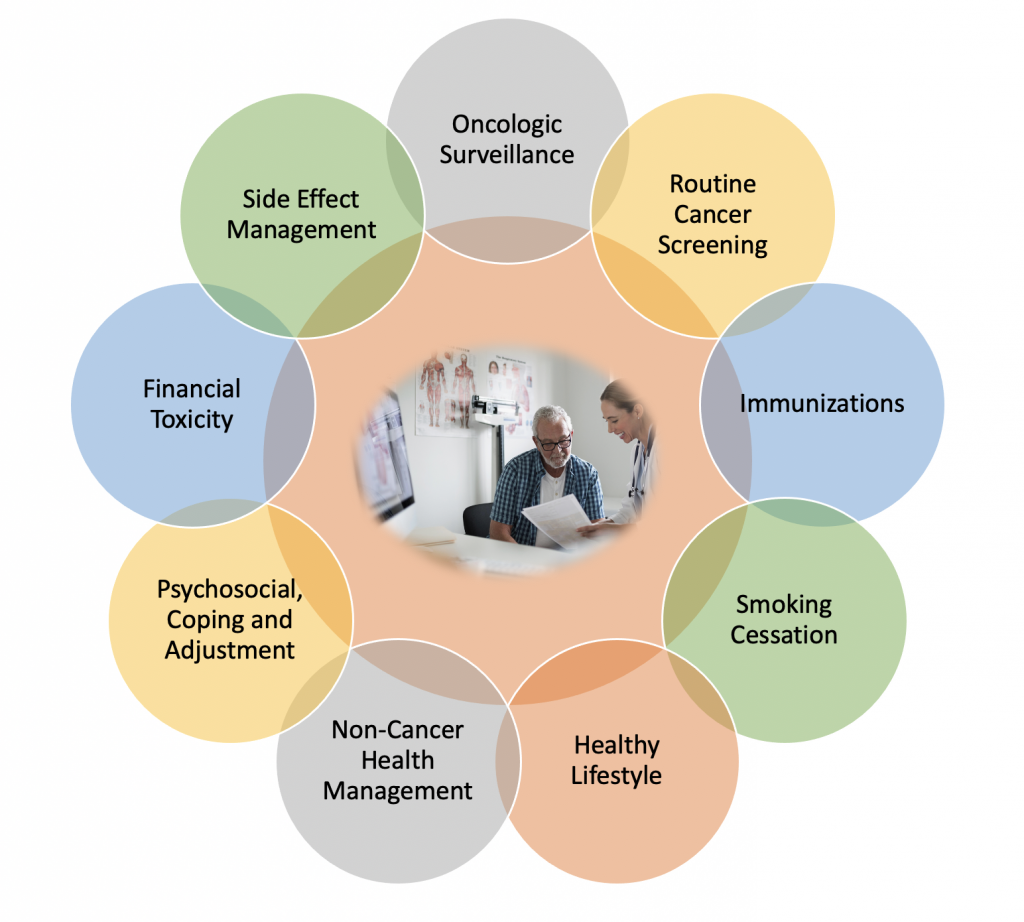 August 1st is World Lung Cancer Day (#WLCD2021) – a day to raise awareness about lung cancer risk, screening, treatment, and survivorship. As lung cancer screening is helping detect cancers earlier, there are more people thriving after lung cancer. In addition, the advances in treatment have helped some people live with lung cancer for longer. Both groups of people have survivorship needs! This article was written for the International Association for the Study of Lung Cancer (IASLC) blog and we thought WLCD was a great time to share it with OncoLink readers.
Global Statistics
Lung cancer is one of the most common cancers worldwide, with over 2 million cases diagnosed per year. Advances in early detection and treatment have resulted in more people surviving the disease. Nevertheless, in the U.S., the overall 5-year survival rate is only 19% for all stages combined. However, in patients with localized disease, survival rates are much higher at approximately 57%. Increased use of CT screening for lung cancer has resulted in many more patients being diagnosed with stage I tumors which have a 5-year survival of 90%. As early detection efforts increase, coupled with further advances in systemic therapies, we can expect to have many more patients living long lives after a lung cancer diagnosis. It is important to consider how the long-term and late effects of treatment increase the risk of certain comorbidities and affect quality of life (QOL) for these survivors. How can we as providers improve the care of survivors and have a positive impact on their lives?
Surveillance & Healthy Living
Professional guidelines recommended all survivors should have oncologic surveillance to detect recurrence following treatment. Lung cancer survivors have a higher risk of developing a second primary lung cancer when compared to the general population and this risk persists for many years after treatment. Surveillance for other cancers is particularly important in current or former smokers as these patients are also at risk for other smoking-related cancers, including bladder, head and neck, esophageal, and pancreatic cancers. Survivors who continue to use tobacco should be counseled regarding cessation and referred to a cessation program for support. In addition, survivors should undergo all age-appropriate cancer screenings.
The National Comprehensive Cancer Network guidelines for survivorship care include recommendations for immunizations (annual flu, pneumococcal vaccination and revaccination as appropriate, and zoster vaccine). Survivors should be counseled on maintaining a healthy weight, having a physically active lifestyle, limiting alcohol intake, and consuming a healthy diet with an emphasis on plant sources. Survivors should continue to see their primary care provider for routine monitoring and management of nononcologic health.
Long Term & Late Effects
Lung cancer is commonly treated with surgery, radiation therapy, chemotherapy, and immunotherapy. These treatments can lead to long-term effects (those that continue after treatment) or late side effects (those that occur months to years after treatment). Persistent symptoms can affect a survivor's physical functioning, mental health, QOL, and ability to engage in exercise, which has been shown to improve QOL.
Long Term / Late Effect
Contributing Therapies
Survivor Experience
Fatigue
All therapies, Underlying lung disease
Affects 90% of survivors and can last for many years.
Post Thoracotomy Pain Syndrome
Surgery
Can contribute to depression, anxiety, and sleep problems.
Impaired Pulmonary Function (Dyspnea, Cough)
Surgery, Radiation therapy, Underlying lung disease
Occurs in up to 60% of early-stage survivors and persists up to 6 years in some. Can interfere with ability to perform ADLs and quality of life.  
Lung Complications (Pneumonitis, Fibrosis, Cough)
Radiation therapy
Affecting daily activities and quality of life.
Neurocognitive Effects
Prophylactic cranial radiation (PCI)
Includes memory loss, poor executive function, muscle weakness, neurologic deficits, hormone deficiencies, and increased risk of stroke.
Chronic Neuropathy
Taxanes, Platinum-based therapy
Occurs in 45% of survivors.
Hearing Loss
Platinum-based therapy
Occurs in 21% of survivors. Can persist up to 30 months after treatment.
Immune-Mediated Toxicity (Pneumonitis, Colitis, Skin Reactions, Hormone and Vision Changes, etc.)
Immune therapies
These effects are acute, but the long-term effects of these medications are not yet known.
Cardiovascular Disease and Stroke
Multifactorial: Chemotherapy, Radiation,
Thrombophilia due to cancer, Pre-existing co-morbidities,
Lifestyle factors.  
More common in lung cancer survivors than their peers.
In addition to these late and long-term effects, approximately 75% of lung cancers occur in individuals aged 65 and older. These patients are more likely to have other comorbidities that accentuate the adverse effects of treatment, negatively affecting quality of life.
Psychosocial & Practical Concerns
Studies have found that lung cancer patients experience higher levels of cancer-related distress as a result of anxiety, fear of recurrence, the stigma associated with the diagnosis, survivor guilt, physical disability, and financial concerns. Extended treatment time with targeted oral oncolytics can be a financial burden for survivors with limited or no prescription drug coverage, especially those over 65 or on long-term disability with Medicare part D. This burden is associated with decreased adherence and inferior survival.
Survivorship Care Planning
Given the range of concerns and late effects lung cancer survivors may face, a survivorship care plan (SCP) can provide much needed guidance and support. An SCP is a "patient-facing" document meant to educate and support the survivor. OncoLife (www.oncolife.oncolink.org ) is a free tool that can be used to generate an SCP based on the survivor's cancer treatment history. This tool has been used since 2007 to create more than 98,000 care plans. OncoLife's SCP provides information on long-term and late effects, oncologic follow-up care, healthy living, psychosocial and practical concerns. Providing this information through an SCP can reduce distress and support the transition to survivorship.
Lung cancer survivors have a number of ongoing care needs to maximize their quality of life. Collaboration amongst interprofessional teams is essential to meet the ongoing needs of survivors living with and after lung cancer treatment.
References
1 Bray, F., Ferlay, J., Soerjomataram, I., Siegel, R. L., Torre, L. A., & Jemal, A. (2018). Global cancer statistics 2018: GLOBOCAN estimates of incidence and mortality worldwide for 36 cancers in 185 countries. CA: a cancer journal for clinicians, 68(6), 394-424.
2, Miller, K. D., Nogueira, L., Mariotto, A. B., Rowland, J. H., Yabroff, K. R., Alfano, C. M., … & Siegel, R. L. (2019). Cancer treatment and survivorship statistics, 2019. CA: a cancer journal for clinicians, 69(5), 363-385.
3 Henschke, C. I., Yankelevitz, D. F., Libby, D. M., Pasmantier, M. W., Smith, J. P., & Miettinen, O. S. (2008). Survival of patients with stage I lung cancer detected on CT screening (vol 355, pg 1763, 2006). New England Journal of Medicine, 359(8), 871-873.
4 Barclay, M. E., Lyratzopoulos, G., Walter, F. M., Jefferies, S., Peake, M. D., & Rintoul, R. C. (2019). Incidence of second and higher order smoking-related primary cancers following lung cancer: a population-based cohort study. Thorax, 74(5), 466-472.
5 Pozo, C. L. P., Morgan, M. A. A., & Gray, J. E. (2014). Survivorship Issues for Patients with Lung Cancer. Cancer Control, 40–50. https://doi.org/10.1177/107327481402100106
6 National Comprehensive Cancer Network. (2020). NCCN Clinical Practice Guidelines in Oncology: Non-Small Cell Lung Cancer. Retrieved from https://www.nccn.org/professionals/physician_gls/pdf/nscl.pdf.
7 Alfano CM, Rowland JH. Recovery issues in cancer survivorship: a new challenge for supportive care. Cancer J. 2006;12(5):432-443.
8 Feinstein, M. B., Krebs, P., Coups, E. J., Park, B. J., Steingart, R. M., Burkhalter, J., … & Ostroff, J. S. (2010). Current dyspnea among long-term survivors of early-stage non-small cell lung cancer. Journal of Thoracic Oncology, 5(8), 1221-1226.
9 Bezjak, A., Lee, C. W., Ding, K., Brundage, M., Winton, T., Graham, B., Whitehead, M., Johnson, D. H., Livingston, R. B., Seymour, L., & Shepherd, F. A. (2008). Quality-of-life outcomes for adjuvant chemotherapy in early-stage non-small-cell lung cancer: results from a randomized trial, JBR.10. Journal of clinical oncology: official journal of the American Society of Clinical Oncology, 26(31), 5052–5059. https://doi.org/10.1200/JCO.2007.12.6094
10Armenian, S. H., Xu, L., Ky, B., Sun, C., Farol, L. T., Pal, S. K., … & Chao, C. (2016). Cardiovascular disease among survivors of adult-onset cancer: a community-based retrospective cohort study. Journal of Clinical Oncology, 34(10), 1122.
11 Yoon, D. W., Shin, D. W., Cho, J. H., Yang, J. H., Jeong, S. M., Han, K., & Park, S. H. (2019). Increased risk of coronary heart disease and stroke in lung cancer survivors: A Korean nationwide study of 20,458 patients. Lung cancer (Amsterdam, Netherlands), 136, 115–121. https://doi-org.proxy.library.upenn.edu/10.1016/j.lungcan.2019.08.025
12 Miller, K. D., Nogueira, L., Mariotto, A. B., Rowland, J. H., Yabroff, K. R., Alfano, C. M., … & Siegel, R. L. (2019). Cancer treatment and survivorship statistics, 2019. CA: a cancer journal for clinicians, 69(5), 363-385.
13 Perloff, T., King, J. C., Rigney, M., Ostroff, J. S., & Johnson Shen, M. (2019). Survivor guilt: The secret burden of lung cancer survivorship. Journal of psychosocial oncology, 37(5), 573–585. https://doi-org.proxy.library.upenn.edu/10.1080/07347332.2019.1569191
14 Pozo, C. L. P., Morgan, M. A. A., & Gray, J. E. (2014). Survivorship Issues for Patients with Lung Cancer. Cancer Control, 40–50. https://doi.org/10.1177/107327481402100106
15 Goulart BHL, Unger JM, Chennupati S, Fedorenko CR, Ramsey SD. Out-of-pocket costs for tyrosine kinase inhibitors and patient outcomes in EGFR- and ALK-positive advanced non-small-cell lung cancer. JCO Oncol Pract. Published online December 7, 2020. doi:10.1200/OP.20.00692
---
About the authors: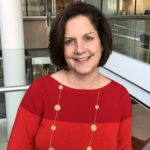 Carolyn Vachani is an oncology advanced practice nurse and the Managing Editor at OncoLink. She has worked in many areas of oncology including BMT, clinical research, radiation therapy, and staff development. She serves as the project leader in the development and maintenance of the OncoLife Survivorship Care Plan and has a strong interest in oncology survivorship care. She enjoys discussing just about any cancer topic, as well as gardening, cooking and, of course, her sons.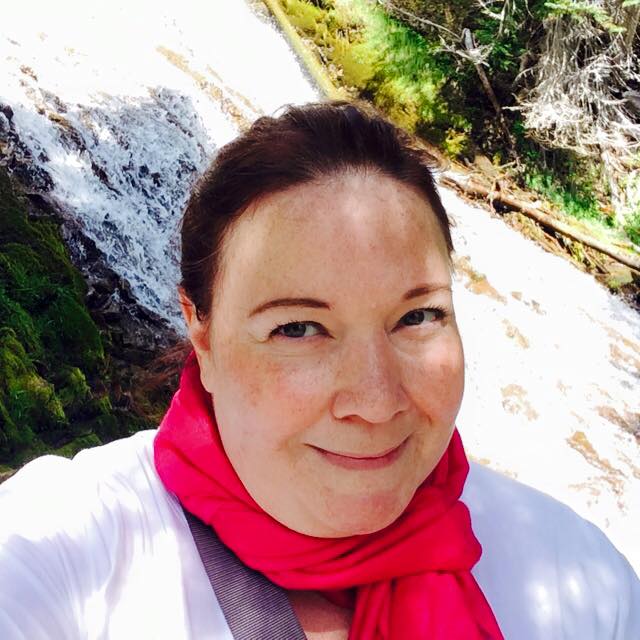 Christina is a clinical oncology social worker and the psychosocial content editor at OncoLink. Christina blogs about resources available to the cancer community, as well as general information about coping with cancer practically, emotionally, and spiritually. Christina is also an instructor at the Penn School of Social Policy and Practice. In her spare time, she loves to knit and volunteer with her therapy dogs, Linus and Huckleberry. She also loves to travel, cook and is an avid Philly sports fan.