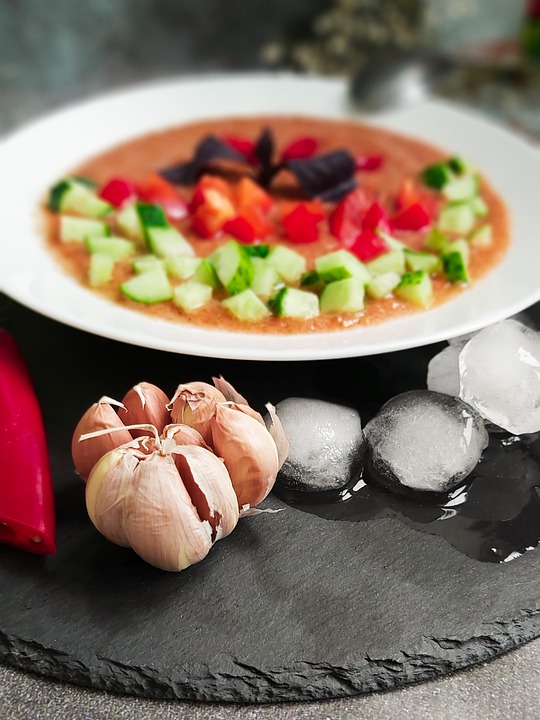 Now that we are in the hottest month of the year in Pennsylvania, I have found myself digging through my summer recipes for cold foods. One of my favorite dishes to make in the summer is gazpacho. For those who don't know about gazpacho, it is a Spanish-style soup, served cold typically made from tomatoes and other vegetables such as cucumber, sweet bell peppers, and onions. There are several different ways to enjoy gazpacho…chunky or smooth, spicy or mild, with or without seafood, etc. I am going to share one of my favorite recipes with you – hope you enjoy!
Gazpacho
Ingredients
7 medium tomatoes (about 3 pounds), peeled and seeded
2 cucumbers (about 1 pound)—peeled, halved, seeded and coarsely chopped
1 green bell pepper, coarsely chopped
1 small red onion, coarsely chopped
4 garlic cloves, chopped
1/4 cup chopped parsley, plus whole leaves for garnish
6 basil leaves
1 teaspoon dried basil
1 teaspoon dried oregano
1/2 cup extra-virgin olive oil
1/4 cup red wine vinegar
1 1/2 tablespoons Worcestershire sauce
2 tablespoons fresh lemon juice
1 tablespoon Tabasco
One 46-ounce jar tomato juice
Salt
Freshly ground black pepper
Finely chopped yellow bell pepper and snipped chives, for garnish
How To Make It
In a large bowl, toss the tomatoes with the cucumbers, green bell pepper, onion, garlic, chopped parsley, fresh basil, dried basil, oregano, olive oil, vinegar, Worcestershire sauce, lemon juice and Tabasco.
In a blender, puree the mixture in batches until nearly smooth. Transfer to a large bowl. Stir in the tomato juice and season with salt and pepper. Refrigerate the gazpacho for at least 4 hours or overnight.
I prefer to add shrimp and garnish with avocado when I serve this dish.
This recipe is from Food & Wine and is by Andrew Zimmern. 
---
Courtney is a Radiation Therapist at Penn Medicine in the Department of Radiation Oncology.  She completed her Bachelor's Degree in Radiation Therapy from Indiana University, and received her Master's Degree in Public Health with concentrations in Health Management and Policy and Health Education and Promotion from Benedictine University.  She has fourteen years of experience in radiation therapy, which includes an expertise in proton therapy and pediatrics.  Courtney has worked with OncoLink since 2014, but joined part-time in 2020 as a Global Education Coordinator and is currently developing virtual reality training modules that have been used to train radiation therapists both domestically and internationally.