Welcome to our newest blog series, "Five Questions With…" In this series, we will highlight the unsung heroes that make healthcare work. From guest services to the phlebotomist, the pet therapy volunteer, and the environmental services workers. These individuals enhance our experiences when we are getting care and highlight human connection and support. Thank you for all you do!
Today, we feature the Penn Medicine Radiation Oncology Patient Engagement Team. Thank you for all you do!
---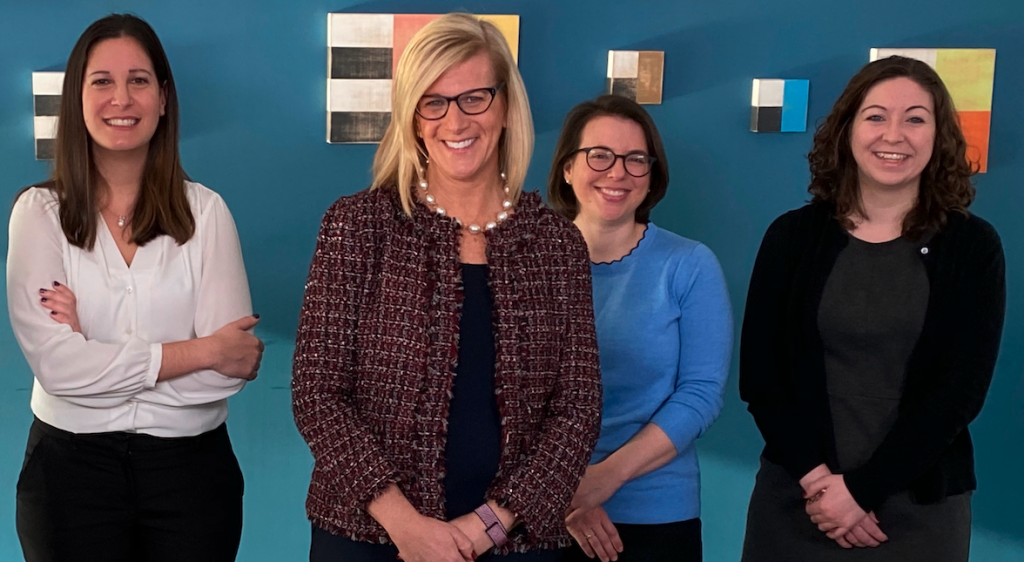 Tell us more about what you do to support patients.
We develop programs to offer a holistic patient experience from the start of treatment through survivorship.  With the complex equipment and technology in Radiation Oncology, our integrative oncology programs complement the advanced treatment options. Offering the patient and their caregiver a comprehensive approach to their radiation treatment, we build a thriving patient and caregiver community by offering connections and programs: weekly patient alumni gatherings, patient pairs, alumni ambassadors, yoga, reiki, pet therapy, origami, and more.
Is there one particular story that sticks out in your head about a patient you can share?
Years ago, one of our patients, Tom was treated for head and neck cancer. Tom is a film maker and he wanted to use his skill to tell the story of his treatment. He created a video and shared it with us. We were so impressed with his perspective that we worked with him to create a video that we still use today as patient education to help explain what to expect with treatment. He took a very scary topic of having an immobilization device made, and turned it into an educational opportunity with our help. This demonstrates the impact of connecting with patients so they can share their narratives to help others. You can see the video here! Mask Video
What is the most challenging part of your job?
The most challenging part is reaching all of our patients at the right time during their treatment journey. Additionally, as the department has expanded to different locations around Pennsylvania and New Jersey, it is also hard to administer these programs to all of our sites. Sure we have flyers and materials advertising these programs, but with everything on patients' minds, they can be easily overlooked (especially during a pandemic). We have partnered with our friends at OncoLink and they were able to create a webpage – Oncolink.org/relax – to share our programs more widely. We also pivoted to offering many of our programs on a virtual platform, which was initially a big challenge but demonstrates how well we all work together as a team. We even added some of our former patients on cardboard cutouts around our patient waiting areas to help share the value and benefit of joining these programs. Penn Medicine Helping Cancer Patients Connect With Survivors Through Cutouts In Waiting Room – CBS Philly (cbslocal.com)
What is the thing you love the most about your job?
We have a great team and we work exceptionally well together as a unit. We also love and are passionate about getting to know all of the patients and their caregivers, and trying to meet their needs during one of the most difficult times in their lives. A highlight of our program is that we stay connected with patients and caregivers even after their treatment ends, which is very rewarding for us as a team.
If someone was applying for a similar position, what would you tell them about the work?
Agility is everything! Be prepared to buy a hat rack for all of the different hats we wear!
---
Do you want to nominate a staff member, volunteer, co-worker, or friend for us to feature in "Five Questions With…" Go to oncolink.org/feedback and let us know!