Welcome to our newest blog series, "Five Questions With…" In this series, we will highlight the unsung heroes that make healthcare work. From guest services to the phlebotomist, the pet therapy volunteer, and the environmental services workers. These individuals enhance our experiences when we are getting care and highlight human connection and support. Thank you for all you do!
Today, we feature Rahma. Rahma has been an Environmental Services employee at Penn Medicine for seventeen years.
---
Tell us more about what you do to support patients.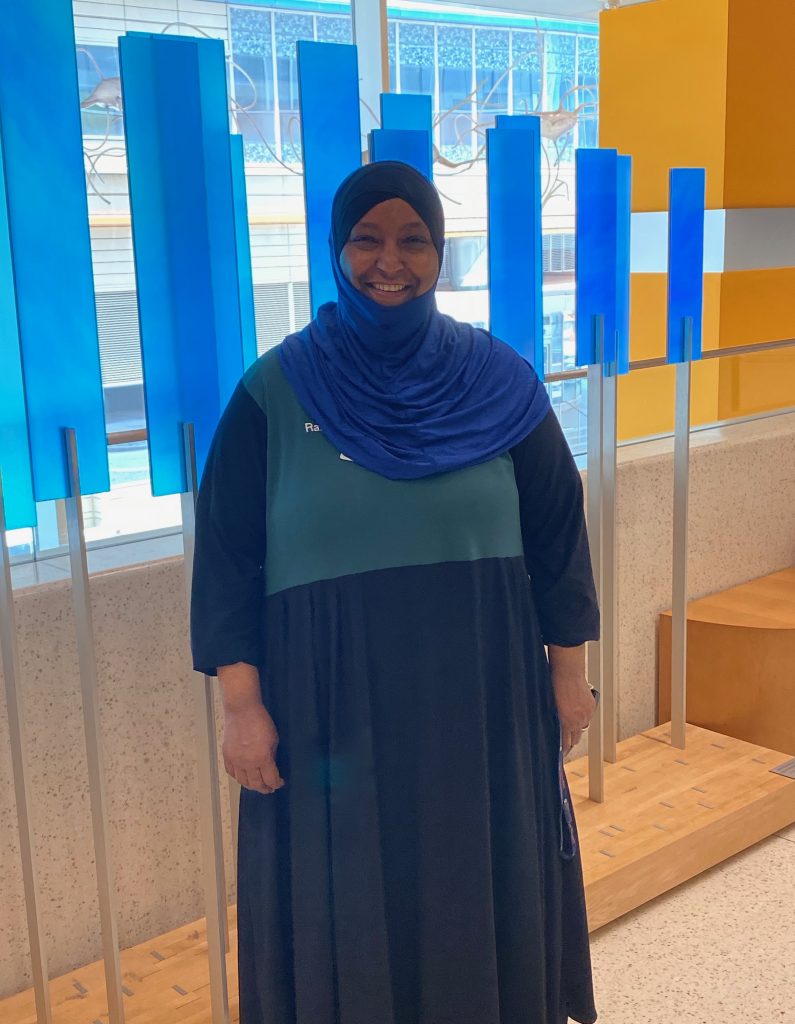 My job is to make sure that our patients have a clean environment to come and receive medical care. I clean and sanitize the patient and employee areas in PCAM. Right now, I am cleaning the 2nd, 3rd, and 4th floors as well as the pharmacy. I clean my areas and if there is a spill or accident that needs cleaning, I will take care of that as well. I give the managers in each of my areas my cellphone number- that way I can provide them with better and faster service. I tell them that if they ever need anything, call me, and I will be there to help.  
I also help patients get where they need to go if they are lost, or I hold the door open for them if they need assistance. Or I just give them a friendly smile. A smile can change a lot of things.
Is there one story that sticks out in your head about a patient you can share?
Patients tell me that I always smile. I used to clean in Radiation Oncology and the patients would recognize me because they would see me every day. I like to make things easy for the patients. I always wish for the patients what I would wish for myself. It's like the saying, "Today you, tomorrow me."
My dad had treatments and I remember what he went through so I feel like I can relate to some of what the patients are going through when they come here. I just want to make the patients comfortable and make them smile.
What is the thing you love the most about your job? 
The thing I love most about my job is that I can make a difference for others. I am not shy. I like meeting, talking, and interacting with new and different people. Every day I learn new things. I put the patients first. It is important that I make the patients feel comfortable. I don't let what is happening in my life affect how I act or how I treat someone.
We used to have a manager that would tell us, "Whatever you feel for yourself leave it outside at the door and do your best here." So, once I walk through those doors I focus on my job and trying to make patients happy.
If someone was applying for a similar position, what would you tell them about the work?
It's simple…do your job, be nice to the patients, smile, and be yourself.
---
Do you want to nominate a staff member, volunteer, co-worker, or friend for us to feature in "Five Questions With…" Go to oncolink.org/feedback and let us know!