In my own family, whenever someone is asked, "How are you doing?", the conversation ends up about our health. And with health, the first questions brought up are about any stomach pains or bloating or even how frequently they use the bathroom. It seems silly, but when I started thinking more about why, I came across the importance of gut health in my culture's age-old history of Ayurvedic medicine, in using natural remedies to purify our bodies and restore balance following disease.1 Digging deeper into gut health, however, there is growing research about the bacteria that it houses and the benefits they have beyond your daily morning rounds… they can actually be used as a tool against metabolic diseases, like cancer.
Can bacteria really be good?
Your gut is home to many bacteria called a 'microbiome' – nearly 100 trillion cells and 1000 species (with more to be discovered) – that help break down foods, make nutrients, and fight off illness.2 We can all remember times battling terrible stomach bugs or food poisoning, but many strains are actually good for us. They use the food we eat to maintain our gut barrier, block any pathogens, and can signal our immune system to fight cancer. Moreover, they are linked to better nerve/brain health, more vitamin production, and more blood vessel formation… they can even help you catch some more quality Zs and keep you in a good mood.
Why is this important to know while getting cancer treatment?
Research has found that your microbiome can affect how well your treatment works. Chemotherapy, and even antibiotics, can change the balance of the microbiome, leading to dysbiosis (an unbalance). By feeding our gut microbiome proper foods while taking these medications, we can promote eubiosis – a happy bacteria balance. This can help the immune system to work how it should and can help lessen side effects like inflammation, nausea, and vomiting.
Even in patients receiving immune checkpoint inhibitors (ICI), like PD-1/PD-L1, research has shown that their outcomes could be dramatically improved by changing the types of bacteria (like increasing Bifidobacterium levels) found in the gut!3
Since the effects are wide-ranging, there is still so much more to learn about the gut microbiome and cancer treatments.
Knowing this, what can patients do to promote a healthy gut?
Generally, diets higher in the following promote better levels of good bacteria and overall gut health: 4
Probiotics (live bacteria that are taken as supplements or in different fermented foods)

Yogurt/kefirKombuchaSauerkrautKimchi

Complex polysaccharides, or dietary fiber à these act as prebiotics (food for your good bacteria)

Other fruits (apples, oranges, lemons… pectin is mostly in the peel)

Plant-based protein, instead of animal protein (i.e. meats) – research shows animal protein is linked to higher risks of IBD and decreases in the good bacteria Bifidobacterium, while plant protein actually improved these beneficial levels

Although less preferred since they are processed, plant-based protein supplements include soy protein and pea protein.

Omega-3 polyunsaturated fatty acids – they have anti-inflammatory properties.

Fish (salmon, herring, mackerel, Albacore tuna, & sardines)

Nuts & seeds (walnuts, flax, hemp, chia, pumpkin seeds)

Sunflower, soybean, and corn oils

Polyphenols

Mangos!

I've been eating a mango a day while volunteering at a hospital in The Gambia this summer, and it has definitely helped with my digestion!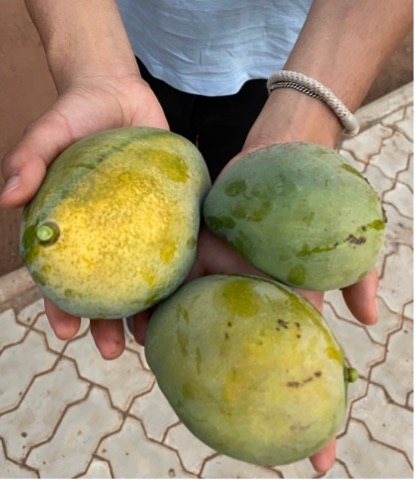 Citrus fruits
Micronutrients à many (like Vitamins K and the B group) are produced by your own bacteria, but here are some that when eaten, can help! 5

Carotenoids (what makes many carrots and bell peppers yellow, orange, and red… also found in cruciferous vegetables like broccoli and cabbage!)
As a general guideline for your diet while on chemotherapy, it is best to avoid greasy, spicy, acidic, or heavy foods, which can irritate your vulnerable stomach. Aim to drink fluids and stay hydrated!
While many cultures have their own version of a gut-friendly meal, I wanted to share a favorite and easy bacteria-boosting recipe from my family given the importance of gut health in my Indian culture. During its fermentation process, it becomes a great source of probiotics!
Tawa Handvo
Origin: Gujarat, India ❧ a healthy, pan-fried lentil cake packed with fiber, veggies, and protein.
(Recipe adapted from Archana's Kitchen)
My mother's handvo – cut into triangles and served with a sweet tamarind chutney!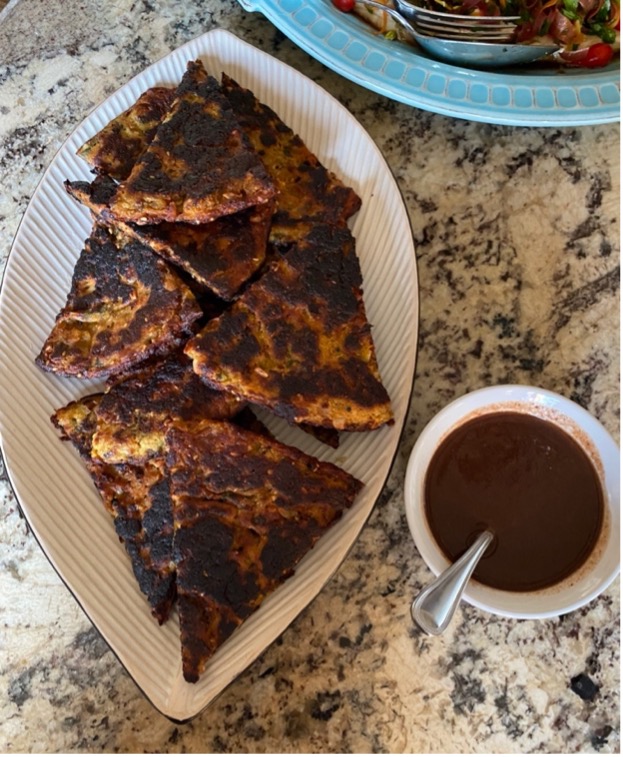 Handvo Ingredients (most can be found online or at an Indian specialty grocery store):
1 cup raw rice
1/2 cup Split Toor Dal
1/2 cup Whole Green Moong Dal
1/2 cup Chana Dal
1/4 cup Whole White Urad Dal
2 Green Chillies
1 tablespoon chopped Ginger
1 cup Dahi/Yogurt
2-1/2 teaspoons Eno's Fruit Salt
1/2 teaspoon Turmeric powder
2 cups grated Bottle gourd (calabash gourd)
Sunflower oil for cooking
Seasoning Ingredients:
1/2 teaspoon Mustard seeds
1/2 teaspoon Sesame seeds
1 teaspoon finely chopped Curry leaves
1/4 teaspoon Asafoetida (Hing)
1/4 teaspoon Red Chilli powder
1 tablespoon Sunflower oil
Salt (to taste)
Vegetables… anything goes! These are just suggestions.
Finely chopped spinach
Diced bell peppers
Diced carrots
Diced onions
Accompaniments:
Indian pickle (found at an Indian grocery store)
Dahi or plain Greek yogurt
Tamarind chutney
Directions:
Wash and soak the rice, split toor dal, green moong dal, chana dal, and white urad dal together in 3 cups of water for 4 to 5 hours.
In a blender, grind the rice, lentils, green chilies, ginger, and salt along with the soaked water and yogurt to make a thick batter that is slightly coarse. The coarseness should feel like fine semolina.
The consistency of the batter should be such that when you use a ladle to pour it should fall in dollops. Stir in the salt and allow the mixture to sit on the counter in a shaded corner, covered for 8 hours.
Once fermented you will notice the dough has risen and has bubbles. Gently stir in a tablespoon of oil to the batter. If your batter did not rise; stir 2 teaspoons of Eno's fruit salt into the batter and you will notice the air bubbles start popping out from the batter.
Stir in the grated bottle of gourd and turmeric, as well as any other preferred vegetables.
In a non-stick skillet, heat one tablespoon of oil on medium-high heat; add mustard seeds, sesame seeds, and curry leaves, allowing them to crackle. Turn the heat to low and sprinkle the red chili powder and asafoetida (hing) into the oil.
Pour two ladles of batter into the pan and gently spread the batter evenly onto the pan. The seasoning mixture will move around the batter but allow it to rest so the sides get crispy!
Turn the heat low, drizzle a teaspoon of oil around the batter, and cover the pan. Keep on simmer for 3-4 minutes until the top feels cooked and steamed.
Once the top is cooked and there is no trace of raw better, use a spatula to flip the handvo and turn the heat to medium-high.
Allow it to turn golden brown and crisp. Flip over once again and allow the other side to brown and crisp slightly.
Make similar cakes with the rest of the batter and serve hot, with Gor Keri pickle, yogurt, or even slices of fresh mango, for breakfast, lunch, or dinner!
References
Johns Hopkins Medicine. (n.d.) What is Ayurveda? https://www.hopkinsmedicine.org/health/wellness-and-prevention/ayurveda https://doi.org/10.3390/nu11102393
Guinane, C. M., & Cotter, P. D. (2013). Role of the gut microbiota in health and chronic gastrointestinal disease: understanding a hidden metabolic organ. Therapeutic Advances in Gastroenterology, 6(4), 295–308. https://doi.org/10.1177/1756283X13482996
Zhou, Y., Liu, Z., & Chen, T. (2022). Gut microbiota: A promising milestone in enhancing the efficacy of PD1/PD-L1 blockade therapy. Frontiers in Oncology, 12, 847350. https://doi.org/10.3389/fonc.2022.847350
Rinninella, E., Cintoni, M., Raoul, P., Lopetuso, L. R., Scaldaferri, F., Pulcini, G., Miggiano, G. A. D., Gasbarrini, A., & Mele, M. C. (2019). Food Components and Dietary Habits: Keys for a Healthy Gut Microbiota Composition. Nutrients, 11(10), 2393.
Yang, Q., Liang, Q., Balakrishnan, B., Belobrajdic, D. P., Feng, Q. J., & Zhang, W. (2020). Role of Dietary Nutrients in the Modulation of Gut Microbiota: A Narrative Review. Nutrients, 12(2), 381. https://doi.org/10.3390/nu12020381
---
Eesha Balar is a 4th-year student at the University of Pennsylvania studying nutrition science and biology, who hopes to attend medical school after graduating. Having first been introduced to the field of oncology through specialists and even patients in her family, she has subsequent experience in conducting bench-to-bedside research on glioblastoma, myelodysplastic syndromes, and even immunotherapy effects. At Abramson Cancer Center, she enjoys working with patients through a clinical study to reduce their time spent receiving healthcare, while engaging in patient advocacy through town halls and virtual exercise groups with the Patient and Family Support department and dietitian staff. She is passionate about using evidence-based lifestyle interventions to manage treatment effects and improve patients' quality of life, a crucial part of long-term health — in her free time, she loves to run long-distance, find new hikes, and experiment with fun recipes.