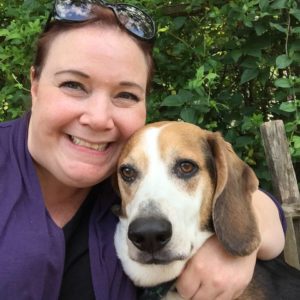 It is with a heavy heart that I write this, the final entry to the Healing Paws blog.
Finn, the wonderful therapy dog who was the focus of this blog series, died on August 28th.
He had been coping with multiple complications after having his CCL (the dog equivalent of the ACL) repaired in April. He made his last therapy dog visit to radiation oncology in July, just one day before his second surgery.
Through it all, he was a trooper. He continued to care for me and his canine brother and sister and for all of those who we interacted with.
I knew for 10 years that Finn was a special dog. I was proud to share him with the world. His smile lit up the room. He was silly, calming, loving, affectionate and of course, a chow hound. He snored like a freight train, loved to run and howl simultaneously at the dog park, and always rested his head on my shoulder as we relaxed in the evening.
But I didn't know the impact he had on the world until he was gone. The outpouring of grief—from friends, family and even former patients we had worked with in radiation oncology, brought me incredible peace during this time when I thought my world was falling apart.
I am truly honored and blessed to have been Finn's mom and to have been welcomed into so many people's lives through our therapy dog partnership. I know Finn made a difference when people were anxious, bored, tired, and nervous in the waiting room. Finn also bore witness to so many patients ringing the bell at the end of their therapy. He was an integral part of the treatment team and the treatment plan. And all with just a silly doggie smile and the wag of a tail.
Rest easy my dear Finn.  We miss you and are forever grateful for you.