When my former co-worker, mentor, and forever friend Karen Arnold-Korzeniowski asked if I would like to contribute as a blogger for OncoLink, I couldn't say yes fast enough. As a nurse on a medical-oncology unit, I had used OncoLink as a resource for myself, my patients, and their families for the past four years, and I appreciate all it offers. It was also a chance for me to merge two of my great passions in life- writing and oncology nursing. Before I jump on this opportunity to engage in a conversation with you, I figured I should share a little about myself and my journey to and through nursing.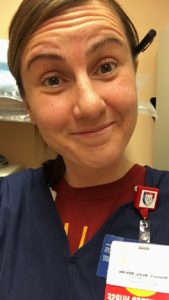 My path to this profession is a bit convoluted, but in my mind, it's the twists and turns that make life a beautiful adventure. Growing up, I always veered more toward the arts, rather than science and math. Like, I'm talking full-on panic attacks during algebra tests and hours spent reluctantly studying for biology exams. So I took the path of least resistance as I declared a major in college: English Literature, with a minor in Writing. I played basketball at the University of Scranton and absolutely cherish my time there. I don't regret my English degree, mostly because I now see how it amplifies my approach to nursing.
Upon graduation, jobs were scarce. This is where those twists and turns come in, and where I learned the infinite wisdom of my mother. Seeing my frustration, and being the gentle yet realistic woman that she is, she said to me, "Marisa, you've always said you wish you could be a nurse. Maybe now is the time to give it a try." A nudge, with a mix of faith and hope, was all I needed. I applied to a two-year RN program in Philadelphia, received my BSN from Penn State Abington, and learned that passion-driven hard work leads to beautiful things. As a new-to-practice RN on a medical oncology unit, I was fortunate enough to learn from some of the best nurses I have ever come across. This past September I started a new journey as an outpatient infusion nurse.
If nursing is a calling, oncology nursing, as I have learned, is a privilege. I thank my mother almost weekly for her belief in me. She led me to nursing, and something greater led me to oncology. As most of us know all too well, cancer affects everyone in different ways. While a senior at Scranton, I watched as my mom's brother, my Uncle Dennis, underwent surgery, chemotherapy, and radiation for esophageal cancer. To describe this man in words is an injustice to his personality and vibrancy. Uncle Dennis, his wife and his son, a teenager at the time, showed me resiliency and love like I had never seen before. As I visited him, I watched as nurses tended not only to my uncle, but to our entire family. They knew my cousin by name and they knew what my uncle cherished in life- the beach, friends, and family. It was here that I learned about dignity and strength. Their compassion, and passion, was palpable. I carry that with me every day. And that is why it is such a privilege to be a part of this journey with all of you.