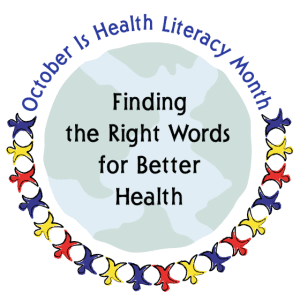 October is Health Literacy Awareness Month! What on earth does that mean? Health literacy is a hot topic in the world of patient education these days. On the outset, you might think this has to do with education level and reading ability. But, not so fast!
The US Department of Health and Human Services defines health literacy as "the degree to which individuals have the capacity to obtain, process, and understand basic health information and services needed to make appropriate health decisions." That's a mouthful. Think of it this way: can you understand and process all the information your oncology care team gives you to make educated treatment decisions, all while facing a new cancer diagnosis? Feels a little different when you think of it that way, right?
Even the most well-educated person can struggle to process all the information about a cancer diagnosis and the possible treatments. Top that with the anxiety, fear and uncertainty they are feeling, and all bets are off. So, what can we do?
As healthcare providers, we can speak in plain language – my motto always is would my grandmother (insert a person with no medical knowledge) understand you? Remember patients aren't familiar with the many terms we throw around – biopsy, prostatectomy, infusion, outpatient, labs – if you've never been sick or in a hospital, these terms may be totally foreign to you. The best way to determine if our patients are understanding is called "teach back" or "show-me." By asking the patient to explain to you the instructions they were given, you can accurately assess how well your instructions were understood. This is not a test of the patient's knowledge, but a test of how well you explained things!
As a patient, entering the healthcare system with a new cancer diagnosis is like moving to a foreign country where you don't speak the language or understand the culture. Healthcare providers know this, but it becomes their everyday language and they forget it isn't yours. It's okay to remind them!
Remember that a new diagnosis (cancer or otherwise) is stressful. Step back, take a deep breath, and prepare to get involved in your care. Don't be afraid to ask questions- the only dumb question is the one not asked! Educate yourself about your condition; ask for recommendations on websites or materials to review before or after your appointments (include your caregiver so they can be involved). This helps you get more out of your appointments- you will better understand what the team is discussing and be able to ask questions on the spot. If you think of questions later, start a list to bring to the next appointment or discuss over a phone call.
The feeling of being overwhelmed affects how well you can take in all this new information and terminology. So, ask for help of friends and family. People want to help, but this is often most useful if you give them some guidance. Ask a close friend to manage the helpers by being their contact person, assigning tasks based on your needs. Give that friend a list of things that would be helpful – pick up kids, make meals, rides to appointments, mow our lawn, etc.
In addition to the individual effects of low heath literacy, it also results in poorer health outcomes (higher rates of hospitalization and less frequent use of preventive services) and this costs the healthcare system more money. Only 12% of adults are considered to have "proficient" health literacy. Whose job is it to address this problem? The primary responsibility for improving health literacy lies with the healthcare and public health systems.
At OncoLink, we hope to help people improve their health literacy as it relates to their cancer care. We see our role as engaging with people affected by cancer, helping them learn about their disease and treatment, and in turn, improving their cancer experience. So, happy Health Literacy Awareness Month, we'll be celebrating health literacy all year long 😉
Learn more about Health Literacy:
Health Literacy Basics from the Department of HHS
Health Literacy resources from the CDC