Just about the first thing they taught us in nursing school was that, no matter what kind of unit we worked on, we would be caring for people during some of the most trying times of their lives and we should approach each shift with that in mind. When you are feeling your worst, we strive, as a team of professionals, to be at our best. As we care for your physical well-being and clinical needs, we also know how important your emotional needs are. Aside from the tests, IV sticks, repeated questions, and wait times, you are facing a great deal internally. And, I learned very quickly as a new-to-practice nurse, that emotions and feelings have no discernable timeline or predictability. Frequently, we see patients meet a diagnosis with what seems like other-worldly strength. Then, at the most unpredictable of times, that inner strength gives way a little.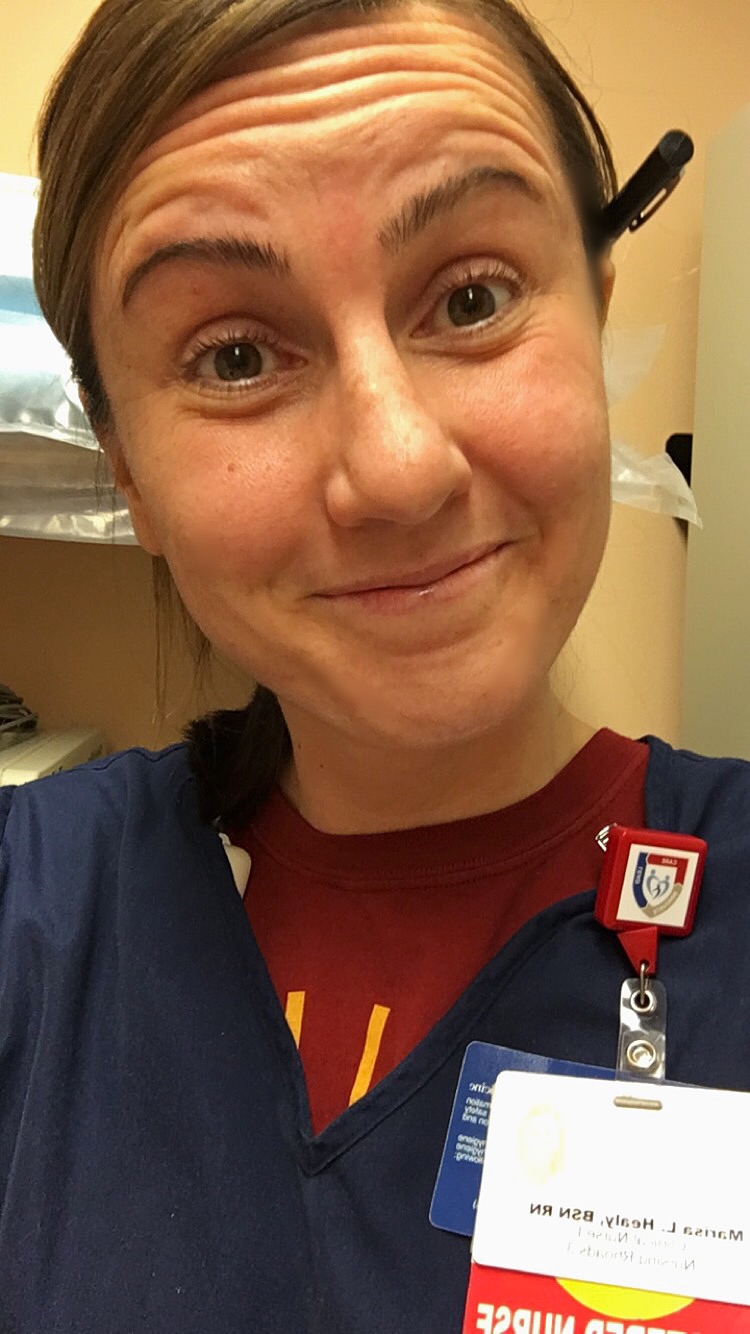 I can remember many times performing what were, for me, mundane nursing tasks: assisting with a shower, discussing morning medications, changing a port dressing, helping to reposition a patient too weak to do so himself—when, out of nowhere, my patient would open up to me. Our usual lighthearted banter would turn, at the drop of a hat, to quiet fears and palpable uncertainty about the future. Suddenly, morning medications and repositioning were put on the back-burner. I knew in those small moments, that my patient was feeling that slight wavering.
I want to make one thing clear—strength in this case is not the opposite of weakness. It is simply an inner force that allows one to push onward. It is not the absence of fear, or hiding of true emotions–it is an instinct to push aside those feelings for the present moment so that you can listen, understand, and actively participate in your cancer journey. Oftentimes we hear patients say, "I don't know where I am getting the strength to do this," or "I never would have thought I could get through something like this." I, myself, can't speak to that personally, but from my experiences in caring for those with cancer, I'm here to tell you—you can get through this.
I also want to assure you that your nurses and care team are there for you. Even if we are busy and can't talk with you at that moment, most times we will make it a priority to clear time for you as soon as we can. So ask those questions and verbalize your concerns. And after you've talked with us, I want to make another important point: Please do not feel guilty for those emotions. I see it all too often. It is natural and healthy to have "down" days. Patients will say, "I'm sorry for breaking down" or, "Ugh I have to stop doing that!" It breaks my heart to hear that, because you have every right to feel those feelings! It may be foreign for you to feel fatigued and frustrated, but we will work together to keep that dignity and to accept those ups and downs.
One of the reasons I view oncology nursing as a privilege is because of the time we are afforded with our patients and their families. During what is most likely the most exhausting, stressful, intimidating time of your life, you allow us the opportunity to care for you. You trust us, and we recognize the importance of that. As an inpatient nurse, we spend days, weeks, even months with you and your loved ones. And, as I am learning as an outpatient infusion nurse, that trust is just as strong and the time we spend with you is just as important. Please know that, even after our opportunity to take care of you is over, many times we think of you and your family and how you are doing. It might not mean much, but knowing someone is in your corner rooting you on can't hurt.