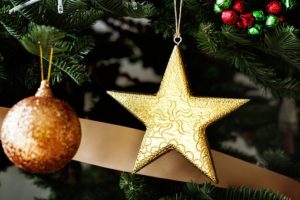 During my years working as a floor nurse, I spent a fair share of my holidays working. The holidays are a time for bringing family and friends together to celebrate the season. You may think this is not possible from a hospital bed but with a little bit of help, I promise you its possible. It will not be the same as being in your own home or the home of a loved one, but you can always make the best of it. Here are some ideas:
Decorate your room. You can ask your family and friends to bring in some of your favorite decorations from home to decorate your room. I took care of a patient whose daughter used tissue paper to make beautiful snowflakes that he hung in his room and she also made some for us to hang around our unit. The staff each year would pick a theme and decorate the windows outside the patient's rooms. Some patient's would get in on the craftiness and help us decorate. Any decorations will brighten up the space in your room and make it feel more like the holidays.
Don't forget that scents can bring about a plethora of memories. You may ask someone to bring in a holiday scented potpourri or other means of sharing a scent in your room. Keep in mind you don't want it to be too strong that it may bother other patients.
(Please be mindful of hospital policies and rules. Examples: No open flames, you may be allowed to only use battery operated lights, no live plants, do not hang anything from the sprinklers, etc. If you're unsure of what you are allowed to use just ask a staff member.)
Invite family and friends to visit. Many floors have family rooms and conference/meeting rooms. If you plan to have a lot of visitors you can ask the floor's manager or another appropriate staff member if you can use one of those rooms for a specified amount of time. You can use this space so that your family can visit in a bigger space where you all can be comfortable. Hospital rooms, no matter how spacious they seem, can get small very quickly. By using one of these spaces, you won't be leaving the unit where you are getting care. This can help in case you start to not feel well or if you are already too ill to leave the floor. It can also be a great change of environment to be out of your room. Just be mindful and ask your family to clean up after themselves. Let the staff know if the trash cans are full.
Have a scrumptious meal. Most hospitals will have a special menu on the holidays. If that's not your thing, ask your visitors to bring you single portions of your favorite holiday meal that can be labeled and stored in a fridge until you are ready to eat it. Or, if you are up for it, you can always have your visitors bring in a meal that you can share together. It will take some coordinating on their part. Don't forget the disposable plates, napkins, cutlery and cups!
Staff will be right by your side and understand how challenging it can be to be hospitalized during the holiday season. Staff will do their best to make accommodations to make your holiday special, as long as it does not interfere with your medical care.