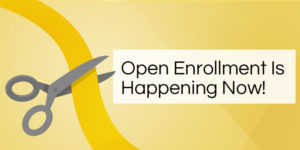 Open enrollment season is upon us! This is the fourth and final entry in our series of blogs summarizing the material from our #getcovered tweet chat and highlighting important facts about open enrollment.
Remember that you can always get more in depth information about insurance via the OncoLink Health Insurance webinar series, available now, www.oncolink.org/insurance. All modules are available to listen to on demand and are free of charge!
We are QUICKLY approaching open enrollment deadlines. A quick reminder that Medicare open enrollment ends December 7th and Affordable Care Act (ACA/"Obamacare) open enrollment ends December 15th.
Do yourself a favor and start researching your options now—not an hour before enrollment ends.
What resources are available to help me with open enrollment?
What other organizations can help me understand more about health insurance options?
I'd also encourage you to seek out your oncology social worker, financial navigator or advocate at your treatment site for more assistance, counseling and education. It is so important that you and your caregivers understand how your insurance works, what changes you can make during open enrollment and how your care may be affected by changes to your coverage. Thanks for reading our open enrollment blog series. Here is hoping it helps you make informed health insurance coverage decisions this year!