This blog is the eigth part in the series "Demystifying Mindfulness." I'm hoping I can help us all understand a little bit more about the practice of mindfulness, how it can be helpful and how we can integrate it into our lives.
---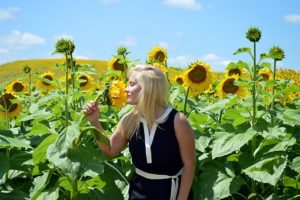 Over the past two months, I've taken a deeper dive into the world of mindfulness. I've meditated—a lot. I've embraced planned laziness . And I've also learned, that I was being mindful in my everyday life LONG before I started this blog series.
I am mindful in the kitchen. I love to cook. I get such a satisfied feeling when a new recipe comes out beautifully and tastes amazing. I'm present and in the moment when I'm cooking. If not, who knows what will happen-just ask my mom about the blueberry jam experiment. Reading the recipe, planning the grocery list, measuring the ingredients and the actual process of cooking the dish-all of this is mindful practice that I do almost every day.
I am mindful when I'm knitting. I learned to knit right after 9/11. I always said I was "nesting" after the horrors of that day. I didn't know then what a big part of my life knitting would become. It's more than a hobby. It's a passion. It's something I've worked hard at to master. I love the feeling of the yarn between my fingers, the comfort of making the stitches—back and forth or round and round. I love to see a finished project and know that it came about as a result of hours of being mindful with my craft.
I am mindful of scents and smells. I cannot walk through a department store cosmetic section and not think of my mom as I walk by the counter with "Beautiful" perfume. I will always associate that scent with her—and in that moment—I'm not rushing around in a crowded mall trying to get the shopping done. I'm think about her. Same goes for bay laurel. I first experienced this smell when walking in Muir Woods in California. It was intoxicating; woodsy and rich. Like nothing I'd ever smelled before. I'll never forget it—or that amazing day in that amazing place. When I was in Michigan a few weeks ago, hiking in a similar environment, I smelled it again. Immediately, I felt like I was back in Northern California-despite being 3000 miles from it. The scent helped me to feel a peace with my place in the outside world.
Take a few moments to think about places in your life when you are being mindful—and might not have called it that. It can be enlightening and encourage us to find other places where we are already doing the work of mindfulness, without it feeling like a job.
---
Christina is a clinical oncology social worker who joined the OncoLink team in 2014. Christina blogs about resources available to the cancer community, as well as general information about coping with cancer practically, emotionally, and spiritually. Christina is an avid knitter and spends a great deal of time posting pictures and stories about her three beagles, Linus, Maggie and Huckleberry. She also loves to travel, cook and is an avid Philly sports fan.