This blog is the eigth part in the series "Demystifying Mindfulness." I'm hoping I can help us all understand a little bit more about the practice of mindfulness, how it can be helpful and how we can integrate it into our lives.
---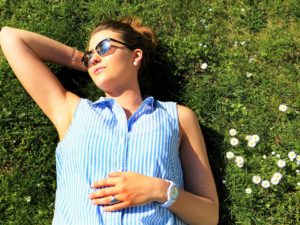 I've been meditating for about 7 weeks now. I'm not doing it every day any more. Frankly, I lost interest in it being part of my daily activities. I do find I like to turn to it in times where I feel like my mind is wandering. For example, I rode the bus home the other day and did the "bus meditation." The bus stresses me out. It's crowded, smelly and there is really very little worse than standing on a packed bus in traffic when all you really want is to get home. I found this meditation really refreshing and able to distract me from the discomforts of public transportation I was experiencing.
Last weekend, I was watching one of my favorite shows, CBS Sunday Morning. In this episode, a commentary from psychologist Adam Grant enlightened me. Grant was finding folks were really surprised he didn't meditate. He stated he found it boring. Grant instead challenges us to be mindful about "planned laziness" and "how we spend our downtime." We don't have to be meditating to achieve mindfulness.
I love the notion of planned laziness.
We live in a society of constant hustle and bustle. Do this, go here, pick this up, call them. We need to take more time to give ourselves permission to just…be. To sit on the couch and zone out. To go for walks just to walk (not for exercise or to get somewhere). To hang out with friends and laugh. And yes, even to binge watch that show.
It's good to slow your roll.
This week, think about how you can plan laziness into your day. This will help you be mindful about your time away from work and the stresses and demands of your daily life. It is just as important in being present, aware and good to yourself and your mind as meditating.
Watch Adam Grant's commentary from CBS Sunday Morning
---
Christina is a clinical oncology social worker who joined the OncoLink team in 2014. Christina blogs about resources available to the cancer community, as well as general information about coping with cancer practically, emotionally, and spiritually. Christina is an avid knitter and spends a great deal of time posting pictures and stories about her three beagles, Linus, Maggie and Huckleberry. She also loves to travel, cook and is an avid Philly sports fan.