This blog is the fifth part in the series "Demystifying Mindfulness." I'm hoping I can help us all understand a little bit more about the practice of mindfulness, how it can be helpful and how we can integrate it into our lives.
---
I've been meditating for 27 days! This is quite a streak! I've even earned a badge! (I get my next one on day 30!)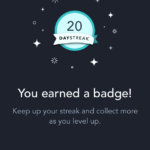 I'm finding myself wanting to meditate now. It's not a chore. It's something I look forward to. I'm also playing with when I do it—this morning I did a 10-minute morning meditation to start the day. I'll admit, I fell back asleep after doing it-so I'm not sure this is going to work for me. The other day I did a 20-minute nature walk meditation. This was an interesting way for me to get some exercise as well as to be more aware of my surroundings and my body within them.
So, that brings me to our topic for this week: meditation apps. One look in both the iTunes app store and the Google play store and you will see, there are A LOT of meditation apps out there. My neighbor (and meditation accountability partner/cheerleader) and I tried a few—we couldn't possibly try them all. We encourage you to play around and find an app that works for you. Below, you'll find some of our thoughts on a few of the apps available.
Headspace (available on iTunes and Google Play/Android)
This is the first app I tried for meditation—maybe two years ago. I didn't really stick with it. My neighbor has been using it regularly for some time. Headspace meditations are led by Andy. Andy Puddicombe. Andy is the "voice of all things Headspace." He has extensive training in mindfulness and meditation and is an ordained Tibetan Buddhist monk. All the meditations on Headspace are led/guided by Andy. There are many options available for meditation, offered in themed "packs." Headspace also offers "SOS" sessions for immediate needs/"meltdowns." Headspace also offers meditations specifically aimed at kids and teens. Times of the sessions varies. You can try Headspace for free, but the free offerings are fairly limited. Subscriptions which unlock all of the content are available for purchase. My neighbor found the fact that she paid for the app motivated her to actually use it. Headspace also offers a section on help for overcoming obstacles to meditation, which my neighbor found very helpful. One con she did find was that the meditation sessions can become repetitive.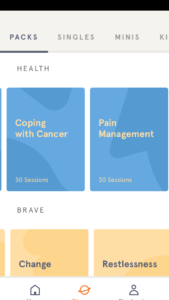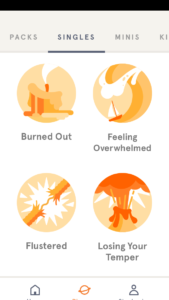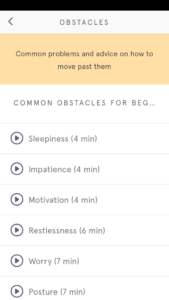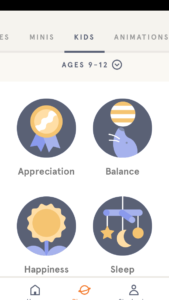 Simple Habit (available on iTunes and Google Play/Android)
I learned about Simple Habit while watching Shark Tank one night last November. The developer did a pitch to the "sharks" for funding and part of her pitch was a deeply discounted subscription to Shark Tank viewers. Well, I bought into the pitch. I tried it a few times, but just wasn't committed to the process and the act of meditation. But I had subscribed for a full year. So when I started writing this blog series, I reinstalled the app and dove in to Simple Habit.
Simple Habit's tagline is, "a daily vacation for your mind." You hear this each time you open the app. I like this as it puts me in the mindset to meditate. The sessions vary in length. They also offer relaxation sounds for unguided meditations. Like Headspace, Simple Habits offers "SOS" sessions for immediate distressing needs. Unlike Headspace, Simple Habit taps into many different meditation leaders to guide their sessions. This is nice, because if you don't like one leader, you can try another. I think its helpful to have a connection with the person leading your meditation experience. I've certainly listened to some I like more than others. Simple Habit does not offer meditation options for children/teens.
I like the "on the go" feature of this app.
This allows you to choose for a specific scenario and an amount of time you have (5, 10 or 20 minutes) to meditate. These scenarios range from commuting, to taking a walk, to taking a break at work, to sleep/rest. I never thought about meditating while riding on the bus—but then one day I did it—and my experience riding the bus has forever changed.
Like Headspace, you can try Simple Habit for free and if you like it, subscribe to unlock all of the content.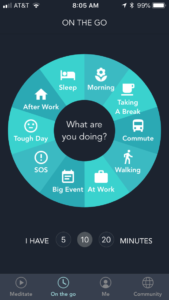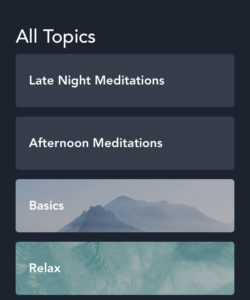 Calm (available on iTunes and Google Play/Android)
Like Headspace and Simple Habit, Calm offers a variety of themed meditations. Much of Calm's content, however, is only available for premium subscribers. You can try it for free for 7 days. Calm does offer free relaxing music/ambient sound options. Another premium service is specifically geared toward sleep. These are called "Sleep Stories," and they are marketed as "adult bedtime stories." If getting to sleep is a particular challenge for you, you might want to try this. There is one Sleep Story currently available as free content.
Insight Timer (available on iTunes and Google Play/Android)
Insight Time offers the "largest free library of meditations on earth." There are over 10,000 available on this app! For free! Like Simple Habit, Insight Timer offers a variety of teachers who have been trained in various techniques of meditation. Insight Timer allows you to chose your meditation based on the time you have available: from 1-30+ minutes. It also has an entire group of meditation for children and teens. Their premium subscription option allows for offline listening of meditations-no internet access required.
All of these apps have tracking systems which allow you to see how many times you have meditated, your streaks, the time you have spent meditating and a global map of how many people are using the app at the moment. This can be a great motivator and can also help you to understand the scope and reach of meditation around the globe. These apps are all deeply rooted in the science behind meditation and its benefits.
One other app specifically for people coping with cancer is the CancerCare Meditation app (available on iTunes-Android coming soon). CancerCare is a New York City based cancer service organization. Within this app there are free options available that focus on relaxation and meditation for various points in the cancer treatment process. Free music for sleep is also offered. Compared to the other apps, the options here are limited, but they are cancer focused. There is more extensive premium content available for a fee. The thing I didn't like about this app was that to use it, I had to register with my name/email and was not allowed to opt out of emails from CancerCare associated with this registered email.
Key Take-Aways
Apps make meditation accessible and portable: we can take it with us!
While most apps offer premium content for a fee, you can access many meditations for free.
Shop around to find an app that works best for you.
Try meditating at different times of the day and with different activities. It doesn't always have to be about stress relief and sleep.
Meditation isn't for everyone and it isn't the ONLY way to by mindful. In future blogs in this series, we will explore other ways to employ mindfulness in your life including mindful coloring, crafting, eating and aromatherapy.
Next week, I'm going on vacation! My intent is to incorporate mindfulness into my travels and to have a bit of a digital detox while I'm away. I'll share my experiences with "mindful travel" when I return.
---
Christina is a clinical oncology social worker who joined the OncoLink team in 2014. Christina blogs about resources available to the cancer community, as well as general information about coping with cancer practically, emotionally, and spiritually. Christina is an avid knitter and spends a great deal of time posting pictures and stories about her three beagles, Linus, Maggie and Huckleberry. She also loves to travel, cook and is an avid Philly sports fan.