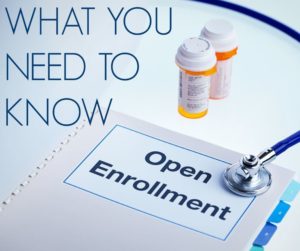 What is Medicare Part D?
Medicare Part D was enacted as part of the Medicare Prescription Drug, Improvement, and Modernization Act of 2003 (MMA) and went into effect on January 1, 2006. Before this time, there was NO prescription drug coverage affiliated with Medicare. Most Medicare recipients were covered through employee retirement plans, purchased private drug plans or got drug coverage through their Medicare Advantage plan. Lower income individuals received assistance through state programs for the elderly and disabled. However, many Medicare recipients had no prescription coverage at all prior to the implementation of Part D.
What does it cost?
There are out of pocket costs at many different levels with Medicare Part D. First, you will pay a monthly premium for your coverage. Most drug plans charge a monthly fee that varies by plan. You pay this in addition to the Part B premium. If you belong to a Medicare Advantage Plan (like an HMO or PPO) the monthly premium you pay to your plan should include an amount for prescription drug coverage. Furthermore, your costs are influenced by the following:
The prescriptions you use and whether your plan covers them.
The plan you choose.
Whether you go to a pharmacy in your plan's network.
If you get your medications at a retail pharmacy or through mail order.
Whether you get Extra Help paying your Part D costs
There are also out of pocket expenses (co-pays or cost sharing) for your prescriptions.
You will pay:
Plan premium: Usually a monthly, fixed amount you pay for your coverage. Failure to pay your premium could result in loss of coverage. Premiums vary based on the plan you select.
Deductible: This is the amount you must pay before your plan pays anything towards the cost of your drug. In 2019, the Medicare Part D deductible is $415.
Initial Coverage Period: Your plan will pay 75% of the cost of your medications and you will pay 25% up until the total paid out of pocket by you is $1266.25.
Coverage Gap (donut hole): Your plan pays 63% of the cost of generic medications and 5% of brand name drugs. However, there is also a manufacturer discount of 70% on brand name drugs. This discount amount counts towards your out of pocket expenses. For example, your brand name drug costs $100; with the manufacturer discounts this to $30. However the discount and your out of pocket count towards your out of pocket maximum threshold-so $100 is applied to that amount. You are in this coverage gap until the total amount you have paid out of pocket (deductible+cost sharing+discounts=out of pocket threshold). The coverage gap has slowly closed over the past 8 years since the enactment of the Affordable Care Act. Plans/manufacturers pay much more of the amount of the cost of drugs in this gap now.
Catastrophic Coverage: In this phase, the plan pays 95% of the cost of your drug; generic or brand name. You pay whichever is higher, 5% or $8.50 brand/$3.40 generic. For example, your medication costs $4000 per month. It is a brand name medication. Your plan will pay $3500; you will pay $500 per month for the remainder of the year. There is no out of pocket maximum.
All of these reset annually on January 1st.
What is covered?
It's important to shop around when considering a Part D plan. The Medicare website, medicare.gov, allows you to enter all the medications you are taking and research the costs of drugs with various plans. Different Medicare Part D plans may cover different drugs. Each plan has its own "formulary". A formulary is a list of drugs covered by a plan and the cost under that one plan. Most Medicare drug plans operate under a "tiered" system. Drugs in each tier have different costs. A drug in a lower tier will have a lower cost than one in a higher tier. If your doctor advises a drug on a higher tier rather than a similar drug on a lower tier you may be able to file an exception and get a lower copayment. Often you have to "fail" therapy on a lower tier BEFORE the drug company will approve the drug at a higher tier. Failing a drug means it does not work for you or provide the benefit it should.
What is not covered?
There are also certain classes of drugs that are excluded in Part D, including:
Weight loss or weight gain drugs
Drugs for cosmetic purposes or hair growth
Fertility drugs
Drugs for sexual or erectile dysfunction
Over-the-counter drugs
Special information for cancer patients about oral chemotherapy drug coverage
Certain chemotherapy drugs have an IV equivalent:–i.e. if your doctor has a choice between giving you an oral drug or the same drug as an IV, the oral drug is covered under Part B. In comparison, oral cancer drugs that cannot be given as an IV are covered under Part D, not Part B. Oral chemotherapy drugs covered under Part B include capecitabine, busulfan, melphalan, cyclophosphamide and etoposide. Certain oral anti-nausea medications are also covered under Part B. If you are receiving one of these medications, you will be responsible for 20% of the cost (as with other Part B expenses) unless you have a secondary (Medigap) plan (see previous blog entries for more about this).
Where can I get help paying for my medications?
The government (Social Security Administration) does offer assistance for lower income individuals through the low income subsidy/extra help program. Medicare beneficiaries can qualify for Extra Help with their Medicare prescription drug plan costs. You may qualify for extra help if:
You have Medicare Part A (Hospital Insurance) and/or Medicare Part B (Medical Insurance); and
You live in one of the 50 states or the District of Columbia
Your income does not exceed $18,210 annually for an individual or $24,690 for a married couple.
Your combined savings, investments, and real estate are not worth more than $28,150, if you are married and living with your spouse, or $14,100 if you are not currently married or not living with your spouse. (Does not include the home you live in, vehicles, personal possessions, burial plots, irrevocable burial contracts or back payments from Social Security or SSI.)
If you do not qualify for extra help, you may be eligible for state assistance, (for example PACE/PACEnet in Pennsylvania or PAAD in New Jersey) depending on where you live. To find out more about what programs your state may offer see: http://www.medicare.gov/pharmaceutical-assistance-program/state-programs.aspx.
What if I don't enroll?
Of course it is your choice to enroll in Part D coverage, but if you opt out, you will be responsible for all out of pocket drug costs. Also, some pharmaceutical sponsored patient assistance programs will not approve patients for assistance if they have opted out of coverage (i.e. chosen to be underinsured when an option was available). If you do not enroll when you are first eligible for Medicare, you may be assessed penalties for late enrollment in Part D. This penalty is added on to your monthly premium costs already deducted from your Social Security and is assessed monthly for as long as you have Medicare Part D coverage.
Conclusion
Medicare Part D coverage can be complicated, but it is important in helping you manage the cost of your prescription medications. Oral chemotherapy drugs and other medications used in the treatment of cancer and it's symptoms can be extremely costly. It is important to work closely with your health care providers if you are having trouble paying for the cost of these medications as sometimes help is available through the pharmaceutical company and co-pay assistance foundations.
Listen to our Part D webinar as part of our "Health Insurance Webinar Series" for more in-depth information.
---
Christina is a clinical oncology social worker who joined the OncoLink team in 2014. Christina blogs about resources available to the cancer community, as well as general information about coping with cancer practically, emotionally, and spiritually. Christina is an avid knitter and spends a great deal of time posting pictures and stories on social media all about her three beagles, Linus, Maggie and Huckleberry. She also loves to travel, cook and is an avid Philly sports fan.