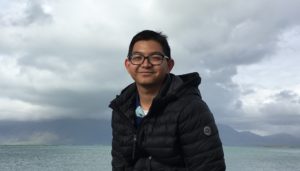 I suppose when I look back on it, it was kind of silly and dangerous that I didn't tell anyone I wasn't feeling so well. I had started taking swimming lessons and then the pains in my left leg began. I didn't think it would be a big deal- just muscle pains from swimming. I was, what… nine-plus years old. I didn't have the words to articulate how I was feeling physically. I didn't know about cancer or anything serious like that. Pretty soon, though, I started to limp and my left leg became so swollen. Then one day, I couldn't stand or walk anymore. I couldn't even stretch my left leg.
The treatment of cancer is almost as bad as cancer itself. It still feels as if chemo was more harmful than cancer itself. It made me nauseous, bald, and weak. I am still suffering from its side effects now after a decade has passed since the treatments- hearing loss and endocrine issues to name a few. Curiously, I wasn't so clear about my feelings toward actual cancer when I was first diagnosed. On the one hand, I didn't completely detest cancer. I mean, I could get my family to do almost anything now that I was sick and I liked it. Cancer, in a sense, made me special. I played the cancer card quite often. Despite all this, cancer didn't even feel real to me. It was there. I knew it was. It just didn't feel real. Most of the time I felt ill because of the treatment itself. I wasn't in any severe, over-the-top pain. I was still breathing. I could still watch TV. I could still do stuff that I liked except for walking or swimming. But I didn't need to walk when I had a wheelchair and people to stroll me around. Cancer wasn't visible to my eyes yet.
After two sessions of chemo, my parents received bad news. The tumor wasn't shrinking and the chemo wasn't working. The only viable option, my care team deemed, was to amputate my left leg from the hip joint. They called it a hip disarticulation, which is a relatively rare procedure. They felt that my leg could not be salvaged and didn't want the cancer to metastasize. But I didn't want them to chop up my leg. My opinion did not matter. During the crisis, the decision regarding my entire life was not mine to make. Mum and Dad were the ones who had the control of the knife essentially.
When I was told about my upcoming surgery, a seed for a revolution in my head was planted. That revolution occurred the day of the surgery. I was lying down on a bed in the outpatient ward, waiting with Mum for the nurses to take me away for the surgery. A social worker came to us; she gave Mum some forms. Before Mum signed it, she cried. It looked strange to me. Although I had seen Mum upset and angry, I have never really seen her cry before. And I finally saw cancer and what it does. Suddenly, I couldn't escape cancer. I literally could not run from it. Life just hasn't been the same since the day when the monster crawled into my bed. I was egocentric in my thinking as a child going through cancer treatments. Now that I am older, I appreciate better what my family had gone through and see cancer yet again in other forms. I did not understand the emotional tolls or the financial constraints my family went through because I did not have the awareness.
After my amputation surgery, I was a baby again in some regards. I was learning how to walk again with a prosthetic leg. Mum was feeding me again (although it was through my nasogastric tube this time). Post-surgery treatment also meant that so many people were looking to me to get stronger, to fight, and to live. These expectations were unrealistic because I could not truly live when I was just trying to survive. But as babies do, I slowly learned to live again after my bone cancer treatments. There would be a few setbacks- I was diagnosed with lung cancer secondary to the bone. I would live this through again.
There are times as I grew older that I thought I would come to terms with what I had gone through with cancer. When I get up in the morning, when I put on my prosthesis for the day, when I realize my limitations or when I see my scars from my surgeries, I ache for what I had lost: my leg, a normal childhood, and the list goes on. It is impossible for me not to dwell on these losses. I may never come to terms with it; and that's fine because so much of who I am is informed by my experience with cancer, I would not trade what I had gone through for anything. Cancer has ingrained itself in me. It still lingers today even though I have been in remission for years. I am even now an oncology nurse, seeing cancer yet again from a clinical perspective. I will surely see it today and tomorrow at the junction of bitter and sweet.
---
Born in Myanmar, Thuya Naing moved to the United States at 12 years-old. He now calls Philadelphia his home. He recently started as an oncology nurse at the HUP. He became interested in cancer survivorship care, including symptom management,  specifically in the young adult age group. He wanted to be a bedside oncology nurse to learn about nursing care involved with oncology patients undergoing current treatments as well as treatment side effects that require management in survivorship care post-treatment.