When I told people that I was studying nursing, the response that I received made me hold my head up higher. When I was applying to hospitals, I met a nurse manager who "sold" me on oncology. She described a world that was sad, but happy, that will make you cry tears of sorrow and joy and would make me appreciate my life and my family. Oh boy, did she describe it correctly.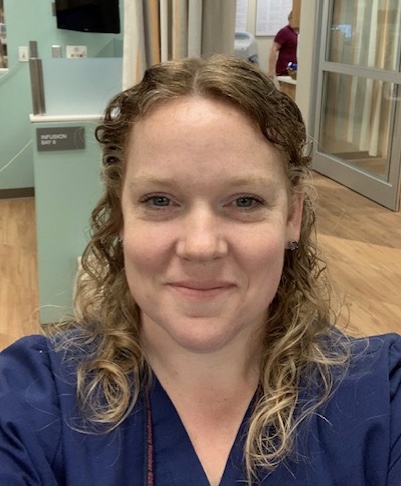 When I tell people that I am a nurse, they look at me with admiration… until I say that I am an oncology nurse. Some say, "Why do you do that" or they just look at me in disbelief. I feel sorry for those who feel that way. They will never get the life experience and knowledge that I learn from my patients and their families. You cannot learn this in a text book, you have to laugh, smile, cry and live with these wonderful people.
To say that I have not felt "burnt out" before would be a blatant lie. I used to go to patients' funerals in the beginning of my career, but I have since learned to grieve and pay my respects in a different way. After being an inpatient oncology nurse for 11 years, I needed a change. I was purposely avoiding making a connection with my patients and families because I was just tired of losing them. I decided to work in administration for 5 years and I was able to learn the "background" of nursing. Then, I got that "change" feeling again. I was in an inpatient world for 17 years and I needed to get out.
I was ready to try the outpatient world. So after 17 years, I went on interviews. I am now in a wonderful job and I am HAPPY. As an inpatient oncology nurse, I was taking care of patients who were very sick and at the end of their life. The feeling of being with my patients at the end of their life was indescribable, it was a gift from them. I learned that you do not mourn your patient after they die, you mourn for the friends and families because their lives go on without their loved ones.
As an outpatient oncology nurse, I treat patients who walk into the facility. I am giving medications to fight their cancer and keep them alive. I see patients as young as me or younger fight for their lives every day. I get to witness patients ring the bell on their last treatment with tears of joy and happiness. I still see patients towards the end of their life, but I know I was a part of their fight. I did not just take care of them at the end, I was a part of their journey.
I would tell a new nurse that oncology is rewarding, sad, gratifying, difficult, fun, exciting, challenging– and I would not change what I do. There will be days that you will cry and take work home with you, but there will also be days that you are so proud of the work that you do.
---
Dana worked at Bryn Mawr Hospital on a telemetry-oncology-hospice unit for 17.5 years. She currently works in the infusion center at Penn Medicine Cherry Hill. She is originally from Philadelphia but now resides in New Jersey with her husband, son, daughter and her dog Madison. She spends her free time with her family, driving to dance, jujitsu, and other fun kids activities and, of course, playing cards at work.