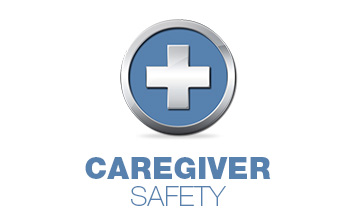 Taking care of another person who is faced with a medical crisis can be simultaneously rewarding and challenging. With newer treatments, people are living longer while having medical and physical needs that require extra attention and TLC. Caregivers do incredible, demanding work day-after-day. Caregivers must be aware of caring for themselves to be able to continue to do this important work. This is caregiver safety.
Caregiver safety focuses on three areas: practical task management, emotional well-being and physical safety.
Practical Task Management
Caregiving is a full time JOB. The day to day tasks of caregiving are seemingly unending. It includes, but isn't limited to: preparing meals, cooking, housekeeping, laundry, transportation to appointments, pet care, bill paying etc. Sometimes, the person we are caring for also requires medical care at home—medication management, wound care, changing (adult) diapers, not to mention medical decision making if our loved one is unable to continue to do this for themselves.
Tips for Task Management
Make a list and check it twice. I am a big proponent of writing things down. Lately, I've been using my Amazon Echo to help me make grocery lists. Figure out what works best with you to organize what needs to be done and when.
Use a calendar for ALL appointments. Some online programs like Google Calendar allow you to share calendars with multiple family members and friends. You may also want to use an online tool like "My Life Line," "Lotsa Helping Hands," or "Caring Bridge" to share caregiving needs with others and put out a call for help.
Need help with meals? Take Them A Meal is a great online planning tool for families who need meals—either home cooked and maybe even an UberEats or GrubHub gift card.
Familiarize yourself with local resources for assistance with transportation, child care, emergency financial assistance and utility assistance. Ask your social worker or navigator for assistance identifying these organizations in your neighborhood. Churches and spiritual communities can also be of great assistance in times of need.
Build in time in your calendar for respite for yourself. A break from caregiving. Make arrangements for another friend to come over and spend time with the person you are caring for.
Emotional Well-Being
Caregiving can be a weight on our emotions, feelings and sense of self. We want to provide support and care, but we also need (and want) to take care of ourselves.
When you are feeling sad, happy, overwhelmed, worried, scared or frustrated, acknowledge these feelings. It is okay to have them. Tune in and pay attention to what your mind is saying.
Recognize your limits and set boundaries. Boundaries are a fence that keep things in (or out) of a specific space. In caregiving, boundaries are essential. You should not feel like you have to do something that makes you feel uncomfortable. Talk about these things with the person you are caring for, with other family members and friends and with healthcare providers.
Go easy on yourself. While you may be a superhero to the person you are caring for, wearing a cape every moment of everyday is exhausting. Give yourself a break and know you are appreciated and loved. It's also important that you maintain time to do the things that are important to you. It might be an afternoon nap, reading a book, going on a trip or going out with friends. You do not have to give those things up because you are a caregiver.
Caregivers know a lot about caregiving. Seek each other out and learn from each other. You get it and may have great strategies to share and things to learn from each other.
It's okay to ask for help.
Physical Safety
Caregiving is physically demanding work. This work can stress the body and even cause injury.
It's important to understand body mechanics and safe methods to lift and turn another person. If you need to provide this kind of care to a loved one, ask for a physical therapy referral. A physical therapist can teach you how to safely transfer someone from bed to chair, or chair to car. A physical therapist can also teach you how to protect your body—in particular, your back—when lifting and turning.
Inquire about adaptive equipment that can make caregiving a bit easier on you. Examples include: a hospital bed, walker, wheelchair, grab bars, lifts, mattress overlays, adult diapers, urinals, commodes, and shower chairs. These may be covered by insurance. Ask your social worker and physical therapist about eligibility and ordering equipment. Sometimes local community agencies also have equipment closets or grant funding available if items are not covered by insurance. The local Agency on Aging may also have resources available.
Know your limits and tell healthcare professionals and other caregivers! We can't know you are uncomfortable with doing something if you don't tell us. Speak up and let us know when you are struggling or uncomfortable with tasks.
Don't forget your own health and well-being. Be sure to go to your own medical and dental appointments. You may also want to see a mental health practitioner who can help you work through some of the emotional stresses of caregiving.
And finally, it's okay to ask for help. If you take away one thing from this blog, it's giving yourself permission to ask for help. Not only is this an act of kindness, but also one of safety. You do not have to do everything for everyone. You may need to ask multiple people, multiple times—but help is out there.
---
Christina is a clinical oncology social worker who joined the OncoLink team in 2014. Christina blogs about resources available to the cancer community, as well as general information about coping with cancer practically, emotionally, and spiritually. Christina is an avid knitter and spends a great deal of time sharing pictures and stories about her three beagles, Linus, Maggie and Huckleberry. She also loves to travel, cook and is an avid Philly sports fan.