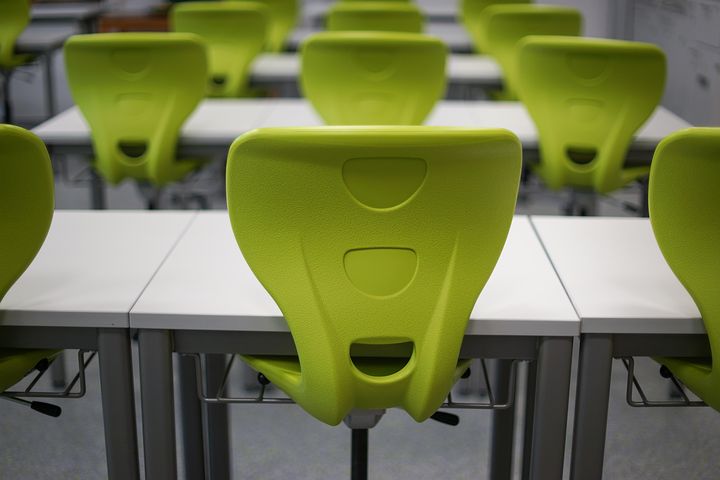 Children who are in school while having cancer treatment or who are returning to school after cancer treatment may have special needs in the classroom that impact their ability to learn.
Their treatment may impact things like:
The ability to see or hear.
The ability to walk.
Coordination.
The ability to learn, pay attention or remember.
The ability to regulate emotions and behaviors.
Energy and levels of fatigue.
The need to take medications for side effect management at various times during the day.
These changes may be temporary. They can come and go. Or they may be permanent.
Parents have some options for improving their child's experience in the classroom. These include 504 Accommodation Plans and Individualized Education Plans (IEP).
504 Accommodation Plans
504 plans refer to section 504 of the Rehabilitation Act of 1973. These accommodation plans only apply to students in elementary and secondary public or publicly funded private schools. 
The goal of these accommodations is to protect the rights of students with disabilities. Your child must have a documented disability to be eligible for these accommodations. Section 504 requires any school district to provide a "free appropriate public education" to every student within the district, regardless of the nature or severity of the disability. Public school districts and publicly-funded private schools need to allow for aids and services that assist a disabled student in meeting their educational goals just as a non-disabled student could.
Examples of these accommodations include (but are not limited to):
Preferential seating—near the front of the class, the teacher, a restroom or a/v devices used in the classroom.
Extended time to complete assignments or tests.
Reduction in homework or classwork.
Earlier/later lunch planned around medication schedules.
Sending a teacher/tutor to the hospital.
Allowing a shorter school day.
Allowing a student to wear a hat/head covering.
Having a rest/nap area available.
You can find out more about the different types of accommodations here.
Putting 504 accommodations in place is not optional for public schools or publicly funded private schools. The school must work with parents to ensure their child has access to the same education as a non-disabled child.
Each school has its own process for requesting and implementing 504 Accommodation Plans. Typically, parents must first document their child's needs. This is where the medical team can help provide information about your child's treatment, side effects, and potential individualized needs. If your child has behavioral/cognitive/attention changes after treatment, a neuropsychology consult can help identify what accommodations might be most helpful for your child and can help in your request to the school. You will also want to have prior school and testing performance records as well as any reports from other providers (e.g. occupational/physical therapists, psychologists, social workers, therapists) who may also be able to provide documentation to support your request for accommodations.
Parents must then identify who is the school's 504 coordinator. Every public school district must have one. Ask the principal or school guidance counselor for help identifying this individual for your school. If your child attends a publicly funded private school, ask the principal about the school's requirements for 504 compliance (it may vary based on levels of funding).
Parents must then formally request a 504 plan. The school district may have forms available or you can write your own letter. But, it is important to be specific in your request: "my child received radiation treatments for 6 weeks and as a result gets tired quite easily. She needs an area to go to for rest/naps during the school day when she is fatigued. This will help her be able to learn like her peers who do not have disabilities." A sample letter is available here.
After you submit your request for 504 accommodations, you may need to be a squeaky wheel. Follow-up with your child's teacher(s), the 504 coordinator, school counselors, guidance counselor, and even the principal. Be a strong advocate for your child.
Once a determination is made that your child is eligible for 504 accommodations, the school will work with you to put a plan in place. A written plan isn't required, but I'd recommend it. It holds all parties accountable (the student, the parent, the teacher, and school administrators) in being sure the student can be successful in the classroom. An example of a plan can be found here.
Finally, your child's needs may change. Make a plan with the school to regularly review the accommodations you have put in to place. What is working? What isn't needed? What things might we need to add to the plan? Is the student making progress in the classroom?
Individualized Education Plan (IEP)
Like 504 plans, IEP's are part of public education and publically funded private education in both primary and secondary settings. IEP's are part of the Individuals with Disabilities Education Act (IDEA).  It is a legal document/agreement between you and the school to provide a child with disabilities with special education instruction, supports, and services so that the child can make progress and be successful in schools—just like their non-disabled peers. 
The fundamental difference between IEP's and 504 accommodations is that there must be a documented special education need. "Special education refers to a range of services that can be provided in different ways and in different settings (understood.org)."  For example, a student with concentration problems ("chemo brain") as a result of cancer treatment may receive much of his education in his regular classroom with his peers, but for 1 hour a day, the student goes to a resource room and receives one-on-one education with a specialist to address the concentration challenges. Special education needs can also include speech-language therapy, occupational therapy, and psychotherapy.
In order to qualify for an IEP, the student must have a documented disability that is covered by IDEA. A full list of these can be found here.
If your child has a documented disability, they MUST also need special education to make progress in school. If your child meets these criteria, they may be eligible for an IEP.
To implement an IEP, the child will need an evaluation. A parent/guardian or the school can initiate this evaluation. These evaluations are free. You can also request a private evaluation, however, the parent would need to find, hire and pay for this professional to complete testing with their child.  You can find tips for navigating the evaluation process here.
Another key part of IEP's is that they must have clear, measurable goals to monitor the progress of the child and the work of the plan. As with 504 accommodations, needs may change. Plans should be reviewed on a regular basis.
You can have both of these interventions in place for your child. But, parents need to work with your school, your healthcare team, and potentially other healthcare and mental health professionals to define your child's specified needs and devise accommodations and plans that will help them be successful in the classroom. No student is the same—what helps one, may not help another. And, you know your children and their needs better than anyone.
---
Christina is a clinical oncology social worker who joined the OncoLink team in 2014. Christina blogs about resources available to the cancer community, as well as general information about coping with cancer practically, emotionally, and spiritually. Christina is also an instructor at the Penn School of Social Policy and Practice. In her spare time, she loves to knit and volunteer with her therapy dogs, Linus and Huckleberry. She also loves to travel, cook and is an avid Philly sports fan.